Have you had enough of searching for good starter bikes on the internet, but are unable to come to a concrete decision? Don't worry, you'll likely have a decision by the end of this article.
Harley-Davidson Iron 883 is definitely a good starter bike. It comes with a lot of positives, making it an ideal option for beginner riders.
In this market, you'll get to know all about its engine, design, seat, how big it is, and more. Further, you'll also have the answer to is Harley-Davidson Iron 883 a good starter bike by the article's end.
Is Harley-Davidson Iron 883 a good starter bike?
For the most part, you'll be hard-pressed to find a beginner Harley-Davidson bike better than a Harley-Davidson Iron 883. The difficulty will come in determining whether or not you're comfortable with this bike. Most Harley-Davidson bikes are really intimidating and their intimidating appearance comes due to the build and size of their engine. Harley-Davidson as a brand makes massive bikes, and even small models can sometimes be too much for starters.
When it comes to getting into Harley-Davidson bikes, there is no clear-cut best option for a beginner. However, when it comes to starter bikes, the Harley-Davidson Iron 883 will definitely be a great starter option. Every Harley-Davidson rider's first bike is different. Every rider has different preferences, and a particular bike might not be ideal for every single beginner. However, there are some clear-cut bikes that are superior and majorly preferred by starters. One of them is Harley-Davidson Iron 883.  While many users choose to start it as their first Harley-Davidson option, is it really a good option? Does it have any flaws? Continue reading to know more.
What makes Harley-Davidson Iron 883 a good option for beginners?
There are many reasons why Harley-Davidson Iron 883 should be considered a great option for beginner riders. While this bike packs a punch, it isn't as powerful as some of the other Harley-Davidson options. Further, it'll take you a lot of speed and irresponsible riding to turn its powerful performance into a problem.
Depending upon the model you're going for, the height of the seat is quite low. Low seats always make it far easier for beginners to learn and get comfortable with riding Harley-Davidson bikes. One of the best bits about this bike is that it is extremely stable and smooth. It doesn't skid and is extremely stable when it comes to sweeping bends.
While the Harley-Davidson Iron 883 is no fire-breather, its low-down torque will definitely make it easy to ride. Further, the bike is also very easy to stall. You won't have to feather the clutch, instead, you can just let it go. It'll cleanly pull from pretty much any gear, which means you won't have to hunt the gear with power constantly. The simplicity of the Iron 883 will make life easier, while also making it easier to concentrate on the road.
The Harley-Davidson Iron 883 is largely an engine with two wheels, a seat, and handlebars. Okay, maybe this might have been an exaggerator but not a major one. The rubber belt is almost maintenance-free, which is certainly a welcome addition. If you're looking to go for a Harley-Davidson Iron 883 as your first bike, then you should definitely go for it. It is definitely a good starter bike. While there might be a few better starter choices out there, you will never go wrong with an Iron 883. As with any investment, you should consider the pros and cons.
Another upside of this bike is that you can buy a used Harley-Davidson Iron 883 for a cheap price. Moreover, the aftermarket for the bike's components is astonishing. You can keep your starter bike Iron 883 and continue upgrading it. It's also possible to upgrade your bike to an angry, fiery v-twin beast and still have enough money for enhancements.
Another positive of this bike is that its platform and engine have been largely unchanged since the 50s. This makes it very easy to work on if customization and upgrading the bike is your thing. Customizing and servicing your bike is something that anyone can do on their own. It is very handy and will keep the bills to a minimum, considering the low cost of used Iron 883s.
Should the cons of the bike affect your decision-making?
The weight of the bike can be key to almost every measurable aspect of a bike. Some of those aspects include handling, acceleration, braking, fuel economy, and more. In normal cases, the lighter, the better. Harley-Davidson Iron 883 bikes are far from light.
It can be tricky for beginners to deal with the weight of the bike. Heavier bikes will be tougher to handle and control. If you end up dropping the bike, either standing or driving, picking it up will be incredibly tough. One of the few things that a heavy motorcycle offers is stability, whereas light bikes can be twitchy over bumps. If you go for a Harley-Davidson Iron 883, make sure that you don't get yourself into any trouble. When beginning your story with a heavy bike, it will just make things harder for you.
Further, the brakes of the Iron 883 aren't that good either. When you match the breaks with other Harley-Davidson models, the braking performance will be pretty underwhelming. During emergency braking situations, you may find yourself looking for gaps instead of trying to pull up short. Only in recent years has Harley-Davidson started adding ABS to the Sportster.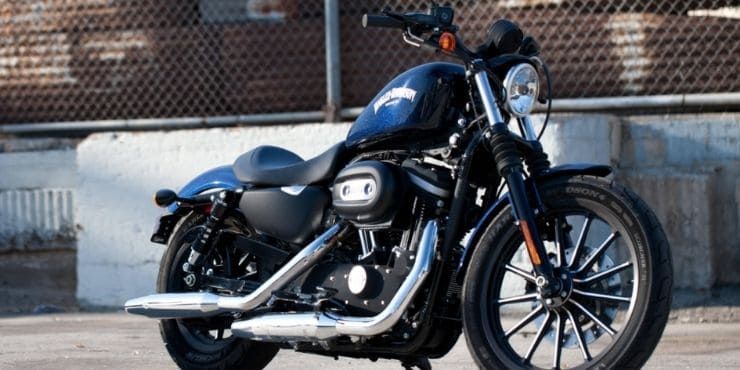 Make sure that you get the lean angles right. On the Harley-Davidson Iron 883, you may have issues with the lean angles. Sometimes, it might not touch down without provocation, which means most beginners need to be okay with the standard clearance. Just make sure that you don't buy a slammed model if you're going for a used bike.
Another important factor worth considering is the steering lock. A little tip that can save your life is that the Iron 883 lets you drive with the steering locked. If you indeed lock your steering, you should put something bright to remind yourself to unlock it. If you forget to do it, then you'll probably learn it the hard way. If you indeed leave it on by accident, you will only do it once. The accident will probably leave you with a lesson. Some riders may argue that this is a good feature that will prevent theft. Interestingly, most bikes come with this feature, just not the one that allows you to drive with the steering locked.
Another point worth mentioning is the fuel range on the bike because of the relatively inefficient motor. Combine it with the bike's weight and the small tank and riders may find it to be negative. The customized version of this bike could come with larger tanks. If you're riding a bike in the city, a small tank wouldn't be a problem. Further, you will also welcome the breaks.
How big is the Harley-Davidson Iron 883 bike?
When it comes to Harley-Davidson bikes, the Iron 883 models will definitely be on the smaller side. The Iron 883 model weighs around 550lbs and comes with a seat length of 25.7". In comparison, bigger bikes like CVO Road Glide will be considerably larger as it weighs around 850lbs and has a similar seat height of 25.9".
Although riders of the same height can ride both bikes comfortably, Iron 883 will be easier to control. You can get the idea of how heavy even light bikes like a Harley-Davidson Iron 883 are for beginners. Simply consider a standard bike that you've ridden, and Iron 883 will be 100lbs heavier.
How big is the engine of the Harley-Davidson Iron 883 bike?
The "883" part of the Harley-Davidson Iron 883 is used to refer to the size of the motorcycle's engine. The engine's size is 883cc or 883 cubic centimeters. It is definitely a far cry from the 1,923cc engine found in heavy-duty bikes like a CVO Road Glide. It would still be a great deal bigger than the smaller engines found in conventional street bikes.
Common small-sized engines found in bikes are between 250cc and 500cc. The bigger the engine in the motorcycle, the heavier will be the bike. However, bigger engines will mean faster bikes. While Harley-Davidson Iron 883 as a starter bike might not give you as heavy-duty performances as some other Harley-Davidson models, it will still be a heavy-duty bike.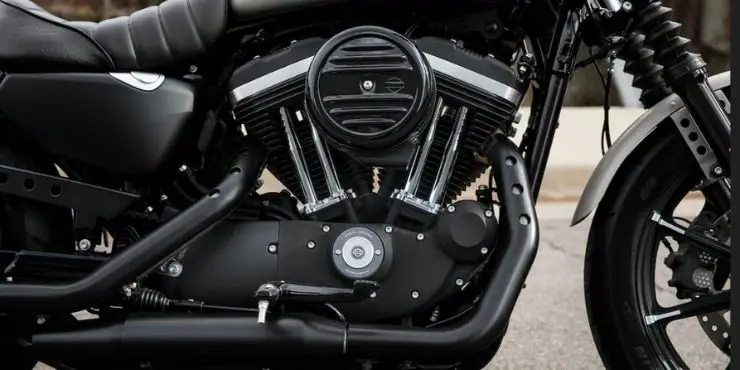 How fast can Harley-Davidson Iron 883 bikes go?
The Harley-Davidson Iron 883 bikes' 883cc engine is less than half the size of some of the other Harley-Davidson models. The Harley-Davidson Iron 883 bikes aren't really the fastest Harley-Davidson models that you can find in the market. Interestingly, its speed is one of the reasons why the Iron 883 has become so popular as a starter bike. It comes with a top speed of around 118 mph and offers decent power that you can control easily. Further, there is also the optional ABS system, which essentially senses varying wheel speeds to increase rider stability.
How do Harley-Davidson Iron 883 compare to similar beginner bikes?
Apart from the Iron 883, The Harley-Davidson Superlow models also come with the same 883cc engine and are beginner bikes. While the engines are similar, the two of them differ in minor attributes like wheel size and appearance. The Superlow model is very popular with beginners due to its low height to the ground. Interestingly, this is where the bike gets its name. In many respects, the Iron 883 has taken the mantle from the Superlow, offering the size, weight, and comparable engine. The Iron 883 is also a much more fun, stylish, and affordable bike for beginners. It can perform pretty well and beginners will feel safe and confident starting their Harley-Davidson journey.
Conclusion
Thank you for reading. Hopefully, now you have better information about starter bikes and is Harley-Davidson Iron 883 a good starter bike. There are both pros and cons to choosing a Harley-Davidson Iron 883 as a starter bike. However, the pros far outweigh the cons, making the Harley-Davidson 883 an ideal option as a starter bike. The ultimate answer rests on your shoulders, as you'll need to ensure you feel comfortable and confident with the bike. There is no point choosing a bike that's supposedly a "good starter bike" but you don't feel comfortable riding it.