Are you a beginner looking for Harley-Davidson recommendations? If so, you're in the right place.
The best Harley-Davidson for a beginner is widely believed to be the Sportster Iron 883. However, there are many other viable options as well. The best bike is the best bike for your comfort level.
In fact, every single Harley-Davidson model comes with unique features and specifications. This makes them suitable for a wide variety of riders. There are so many exceptional options that you'll struggle to know what is the best Harley-Davidson for a beginner. Continue reading to know some of them.
Harley-Davidson motorcycles for beginner riders
Harley-Davidson is one of the most iconic and historic brands for motorcycles. Some of the most popular and beloved motorcycles come from the Harley-Davidson brand. With the high-end and classic models of Harley-Davidson so popular, its beginner options are often under-acknowledged.
With that said, there needs to be a change in the narrative. Many of Harley-Davidson's past and present bikes work in favor of novice riders. There are many exceptional bikes that beginners can learn their craft on and get into the Harley-Davidson scene.
If you're looking to know what is the best Harley-Davidson for a beginner, then it'll depend on whichever bike you're most comfortable on. Keeping that in mind, the best Harley-Davidson bikes for beginners must have certain qualities, making them perfect for novices. These bikes should have features like a low center of gravity, be easy to drive, and a set that is low and lightweight.
Best Harley-Davidson motorcycle options for beginners?
Harley-Davidson is one of the first names you should consider if you're in the market for the perfect beginner bike. It must be on top of your priority list. Don't let the low-RPM torque, the weight of the bike, and the unique sitting position scare you away. As opposed to the contrary, Harley-Davidson bikes are easy to drive, even for beginners.
Harley-Davidson has an unmatched reputation when it comes to producing iconic, powerful, and reliable bikes. These bikes appeal to riders of all experience levels. The brand offers many beginner-friendly motorcycles that will come with stunning features and attractive prices. These bikes have been designed to meet the wishes of new riders with different driving requirements. Let's have a look at some of the best Harley-Davidson bikes for beginners that you'll find in the market.
Harley-Davidson Sportster Iron 883
The Sportster Iron 883 is widely regarded as one of the most beginner-friendly Harley-Davidson options in the market. Moreover, it is also one of the most affordable bikes from Harley-Davidson.
The motorcycle is characterized by its low seat height and lower suspension. The suspension isn't just stable but also extremely comfortable for all drivers. The weight of 545lbs makes it a tad bit daunting for new riders. However, once you're able to get the hang of it, you will hardly feel the extra weight. The bike will be powered by Harley-Davidson's classic 883cc air-cooled twin-cylinder engine. The iconic engine pays homage to the heritage of the brand of being a "motor" company above all. It is something that is missed sorely with models like Street 750 and 500.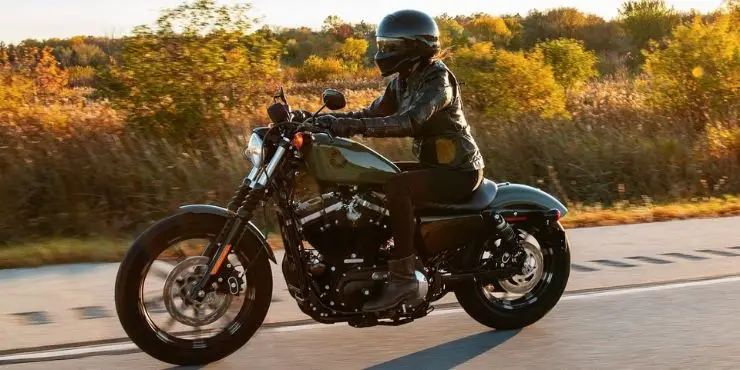 The Harley-Davidson Iron 883 will feature drag-style, dropped-back handlebars, giving it an old-school look. Moreover, the bike will also come in multiple colors, with the most popular one being the anti-chrome, all-black style. 
Harley-Davidson Street 750
The Harley-Davidson Street 750 is widely believed to be among the best options for a beginner. While the bike has been discontinued a few years back, there are ways to get your hands on the bike. The Street 750 comes as an entry-level bike in the Harley-Davidson brand. It is a great option as it attracts new riders and a younger demographic.
For novices looking for their first Harley-Davidson bike, the Street 750 will be an exceptional option. As the bike has been discontinued, you can still get your hands on it by venturing into the used market. You can find users who are willing to sell their Harley-Davidson Street 750 at bargain prices. There is a massive selection of used Street 750 bikes listed on eBay.
Interestingly, the Harley-Davidson riding schools in the United States teach the students on Street 750 and Sportster 883. The bike is great for people who are shorter in stature. It comes with a comparatively low-powered engine, which is around 750 cc. The engine is pretty easy to handle, comes with an upright seating position, and is pretty low to the ground. It has a seat height of 25.7" while it weighs 514lbs.
Harley-Davidson 2021 Sportster S
Last year, Harley-Davidson released the new Sportster with a new engine dubbed the Revolution Max 1250T. Currently, it ranks as Harley's smallest displacement machine in the United Kingdom. However, it's the third smallest in the United States with the Iron 883 and Iron 1200 being the top two.
The bike weighs 502lbs and has a low 28.9" seat. From the perspective of handling, this bike will be very easy to manage, especially for new riders. The motorcycle will produce a huge 121 horsepower, which means you should be conscious of its power. With the bike's powerful performance, you should prefer going easy on the throttle.
There are many modern features that come as a part of this bike including the ABS with enhanced cornering abilities. Moreover, there is also traction control and better maneuverability of the bike. All of them will be great to aid beginners, making it easier for them to drive, and keep them safe.
Harley-Davidson Street Bob
With a 1,000cc engine capacity and a bit on the heavier side, the Street Bob is still a crowd favorite. It is a popular choice for beginner riders who have just gotten into the Harley-Davidson scene. The Street Bob comes with a super low 25" seat and will be great for riders with the Bobber looks. Moreover, people looking for a "Big" Harley model without having to deal with extra weight will love this bike.
With this being, there will be massive power, an aggressive riding stance, and stunning looks. All these features and more will give the Harley-Davidson bike that big vibe without feeling like one. For tall and heavy riders, the Harley-Davidson Street Bob will also make for a great choice over a Sportster.
Harley-Davidson Softail Slim
The Harley-Davidson Softail Slim comes as a traditionally styled motorcycle that harks back to the 50s. It features a low seat of 25.5" while giving a relaxed riding position. The motorcycle will be perfect for confident riders who are looking to enjoy a more traditional laidback cruiser.
The center of gravity with the bike is nice and low. Meanwhile, the weight is perfectly balanced to instill confidence in novice riders. If you're looking for something darker and moodier, the blacked-out Low Rider S would be a great choice. However, it may be a bit too fast for beginners, so Harley-Davidson Softail Slim would be the superior option.
The Harley-Davidson Softail Slim shouldn't be taken lightly as it features a big V-twin engine. You should make sure that you're able to manage the weight and control the throttle hand. If you're able to do that, you'll be able to enjoy the Harley-Davidson riding experience to the fullest.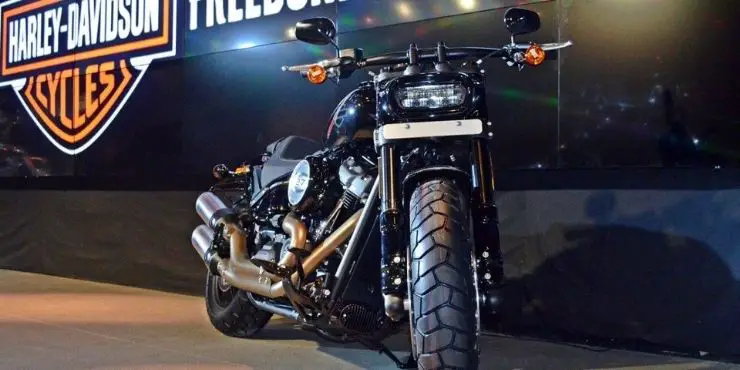 Harley-Davidson Livewire
Regarded as one of the leading electric bikes on the market, Harley's electric offering is another great option for beginners. The primary selling point for all drivers here is that it is an electric bike. It is a great option for someone looking to make the move to an electric bike.
Harley-Davidson Livewire will come with a seat height of 30" while it weighs around 549lbs. It comes with a very upright riding position, making it a tremendous option for beginners. The beginners will find it easy as they'll have ample visibility and be in total control of the bike.
Harley-Davidson Freewheeler
The Harley-Davidson Freewheeler isn't really the most traditional of bikes, it is still highly popular among beginners. It is one of the lightest options, which makes it very easy to handle, control, and learn for novices.  
This motorcycle is built for solo drivers and beginners will truly love it. This isn't as big as other motorcycles, which means it'll be comfortable for short trips. Moreover, you can also go on long trips and tours on this bike. If you have ample experience driving other bikes, you can always turn to this as your first foray into Harleys. It would be great to boost your confidence as it is very easy to drive.
Needless to say, the three wheels will offer far more stability than two wheels. You will have to be fully committed to owning a Harley-Davidson bike as the Freewheeler is a pretty pricey option. Further, you can rest assured that it'll be a worthy investment as it will last a long time.
What is the best Harley-Davidson for a beginner?
Harley-Davidson bikes come with bigger engines and are comparatively heavier than traditional bikes. However, that doesn't imply that the brand doesn't offer great options for beginners.
If you're looking for answers to what is the best Harley-Davidson for a beginner, then there isn't a definite answer. Different riders will have different preferences and different comfort levels when handling bikes. Many people find Iron 883 to be pretty easy to ride but the same might not apply to you.  People with tall heights and builds may not find bikes that favor short people and vice versa.
Always go for the bike that suits your needs the best. The confidence, comfort, and ease of use will be more relevant than the general consensus. Make sure that you're understanding your riding ability and limits, as it'll prevent you from punching above your weight. The last thing you'd want is to overestimate your abilities and purchase a costly bike that you're incapable of riding.
Unfortunately, a couple of the best beginner options have been discontinued by Harley-Davidson. However, you shouldn't worry as you can easily find used Harley-Davidson bikes, and they'll be almost as good.
Conclusion
Thank you for reading. Hopefully, now you know more than enough about what is the best Harley-Davison for a beginner. While there are names that can be listed, the best bike is the bike that you feel most comfortable driving. There are some entry-level bikes that have been mentioned above, but it depends on your level of comfort and preferences.
Most of these models are pretty lightweight and come with some stunning features. Moreover, they are easy to handle and offer a comfortable riding experience. The final decision rests on your shoulders. You will need to carefully consider which option to go for as it'll be a long-term investment.