Welcome to White Star Rides, a haven for Harley-Davidson enthusiasts, of Harley-Davidson enthusiasts, and by Harley-Davidson enthusiasts!
If you're a biker, whether a beginner or an experienced one, you'll know about the Harley-Davidson brand and love everything that the brand has to offer. Harley-Davidson is a historic motorcycle manufacturer based out of Milwaukee, United States. Harley-Davidson, Inc. has been designing premium-quality heavyweight bikes for bikers for almost 120 years. The company is well-known for its powerful bikes that offer a great riding experience and longevity, and it has inspired generations of bikers. As you know, you can never have too much information about something, there's always something new to learn. This is where we come in and offer you a plethora of knowledge about Harley-Davidson bikes.
At White Star Rides, we provide useful information about Harley-Davidson bikes and motorcycles in general. Whether you're looking for information about your Harley-Davidson bike's engine, footboards, air-fuel mixture, maintenance, or any other topic, we've got you covered. Check out our blogs, and you'll get to know detailed information about different topics covering different components of your Harley-Davidson bikes. If that's not enough, you can also get detailed product reviews of Harley-Davidson motorcycles, different components, and all things related to Harley-Davidson bikes. 
The mission statement of White Star Rides is to always strive to be the best and offer the most authentic and best-possible information that the readers can be satisfied with. Whether you're just starting to develop an interest in motorcycle riding or you've been a Harley-Davidson lover for years, we have a lot of interesting articles that can appeal to you and provide you with important information. With our blogs and in-depth Harley-Davidson reviews, we hope to become a dependable, trustworthy, and well-known place for Harley-Davidson enthusiasts to come and get their daily fix of information.
Ride free, ride safe, and keep the throttle wide open. Until we meet again, keep the wind in your face and the sun on your back.

Pat Steel
Enjoy your ride,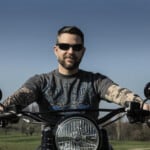 Pat Steel
Founder of White Star Rides
Keep In Touch
White Star Rides
2751 Westwood Dr
Las Vegas, NV, 89109
United States
[email protected]
+1 702-560-2524