Do you feel like you need additional help in adjusting and keeping track of the air-fuel mixture in your Harley-Davidson bike? If yes, then a tuner is just what you need. For a bike like a Harley-Davidson, a tuner isn't good enough, you should have the best tuner.
The best tuner for Harley-Davidson bikes comes from brands like Vance & Hines, Dynojet, TTS, and more. Different models find different tuners compatible, so the best tuner will depend on your bike.
There are many amazing tuner options for Harley-Davidson riders. Here, you'll get to know all about tuners, their uses, what is the best tuner for Harley-Davidson bikes, and more.
What is a Harley-Davidson tuner?
A Harley-Davidson tuner is a unit to help you adjust the air and fuel in your bike. This is done by making use of fuel injection technology. It will monitor the performance of your bike while constantly tuning the air-fuel ratio to an ideal capacity. Doing that, it'll help your bike deliver optimum performance and a better riding experience.
Tuners give the riders peace of mind, assuring them of having the right amount of fuel in the tank. Further, it'll also offer a much better throttle response, increasing the power of the bike. This way, you can enjoy smoother cruising and improved fuel mileage.
What is the technology behind the tuners for Harley-Davidson bikes?
Installing a tuner in your Harley-Davidson bike will mean adjusting the motorcycle's ignition. This type of adjustment will make it possible to get the right balance between the fuel-air ratio. Moreover, you'll be able to get the most torque and horsepower as you can have an optimal fuel-air ratio. Going for the right tuner will go a long way in saving you time and cost in getting your bike serviced.  A tuner makes use of the fuel ignition system to constantly tune the fuel-air ratio, giving you improved performance. Whatever the case might be, this unit will give your motorcycle the right ratio of air and fuel at an ideal capacity, allowing for optimum performance of your bike.
Moreover, the tuner will also give you relief that the fuel in your tank won't burn out too fast. Subsequently, this will lead to improved fuel mileage. The tuner will also give your bike a better throttle response while increasing the power to have smoother cruising. Most motorcycle manufacturers in today's market have started incorporating electronic fuel ignition systems. Interestingly, Harley-Davidson is known for being the leading name in the market for manufacturing bikes with this ignition system.
Why add a tuner to your Harley-Davidson motorcycle?
There are several reasons why the addition of a tuner can greatly benefit your Harley-Davidson bike. Some of them are –
Fuel economy
When you're using a tuner with your Harley-Davidson bike, it'll add additional horsepower to your bike. This will give you a much smoother ride. Moreover, the tuner will enhance the throttle input of your motorcycle, making it suitable for any riding conditions.
Confidence while riding
Adding a tuner will fix issues like the vibration of handlebars, chugging, or stalling when you have to speed up. By doing that, you'll have the confidence to ride at any speed. This will allow you to enjoy the ride as you won't have to struggle to get to the ride speed.
Less servicing and maintenance
Adding a tuner to your Harley-Davidson motorcycle will prolong the time needed between servicing and maintenance. Engines, tires, brakes, oil change, throttle, and tune-up will last longer as you can drive the bike smoothly now.
What is the best tuner for Harley-Davidson bikes?
There are several exceptional tuners for Harley-Davidson motorcycles. Different models will find different tuners suitable. Ultimately, it'll depend on the bike's model and your preference to decide what is the best tuner for Harley-Davidson bikes. Here are five exceptional tuners that should be on top of your list if you're looking for a new tuner.
Fuel management of your Harley-Davidson will get tremendously easier with this one. You'll be able to tune your bike and make fuel adjustments using your mobile phone. This tuner will work perfectly with Harley-Davidson bikes that come with 6 pin connectors like FLH, FXST, FLT 2014-2020FXD, XG750A, and XG500. However, this tuner is restricted for use in California.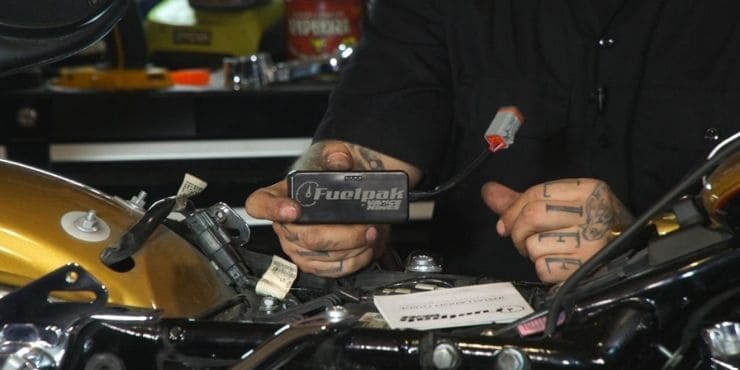 These tuners will make use of the flash technology for making the assessments and adjustments. The device will grant you the ability to see the statistics on your smartphone's screen. You'll be able to see the speeds at which you're traveling, your gear selection, the RPMs, the temperature of the cylinder head, and other statistics. 
It will calibrate the ECM using flash tuning. Meanwhile, there is also an auto-tuning feature that'll allow you to have much more precise calibrations. You will be able to see the data on your device. Since the device makes use of Bluetooth technology, there will be no additional wires connected to your bike. 
This powerful tuner will give you the option to receive custom maps designed according to the modifications of your motorcycle. All you need to do is email the company with the necessary information about your Harley-Davidson bike. The company will then load a map custom-designed for your motorcycle. The tuner will then adjust the timing of your motorcycle for each cylinder.
It is designed specifically to be used for Harley-Davidson Softail bikes, excluding Deluxe, Heritage, Crossbones, and Screaming Eagle 110 CV.
The tuner will allow you to have much more control over the fuel consumption while giving increased ignition control. You will also be able to custom adjust the bike such that the fuel consumption is very less. Moreover, the power of the engine will also be increased.
The adjustments will help keep your motorcycle parts functioning at optimum levels. You'll also get better longevity of the engine and other parts, especially the fuel injectors. The tuner will provide you with almost 24 fuel tablets that you can use in the adjustment calculations. Further, it'll also allow you to map and track each cylinder individually such that you can get optimum performance. It will easily plug into your PC using a USB cable, which means you won't need a 9V adapter.
Vance and Hines Fuelpak LED 2002 – 2007 Harley-Davidson Touring
If you're looking for tuners for Harley-Davidson Touring bikes or bikes between 2002 and 2007, then this will be perfect. Moreover, it'll also be a perfect fit for the Harley-Davidson 2006 Ultra Classic model. This fuel management device is designed for helping you get a lot more miles from the fuel you're using.
It will help you prolong your Harley-Davidson motorcycle's life, as it'll help keep the air to fuel ratio balanced. With a properly balanced ratio, there will be less strain on your bike. The mounting screws are aluminum, which means they won't rust or corrode. The screws are long, which means they'll perfectly fit on many different models. However, you might need a pair of pliers to tighten them when you're mounting the screws to the EFI unit.
The installation instructions will be very easy to read and follow. It is very easy to install the tuner at home thanks to the detailed instructions that come with clear graphics. The tuner will measure 12" x 12" x 12" while weighing only 1.1lbs. This essentially means the tuner won't add any significant weight to the bike. Moreover, it won't interfere with the handling of your bike.
This ranks as one of the best tuners that have been released for Harley-Davidson bikes. The Fuelpak FP3 will connect to your smartphone wirelessly, be it Android or iOS. This tuner is compatible with the Harley-Davidson Electra Glides between 2014 and 2019, Street Glides, Road Kings, and Road Glides. It will also work with trikes launched between 2014 and 2019. It'll be compatible with Softails from 2011 to 2019. Lastly, it'll work well for Dynas and Sportsters from 2014 to 2019.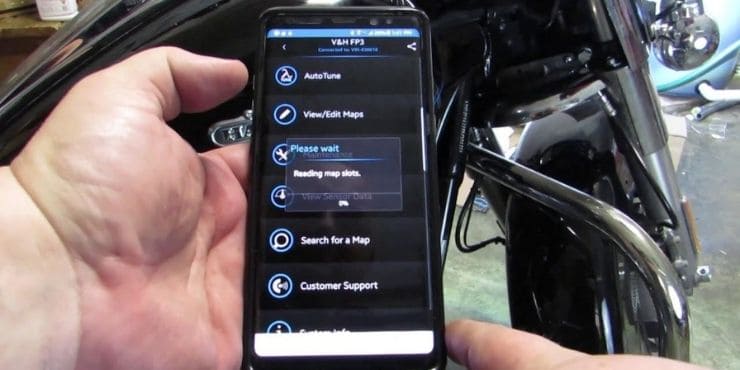 This tuner is designed with wireless Bluetooth compatibility. This means accessing the data is very easy, and you won't even need to get off your bike. The tuner comes with an autotune feature. It'll allow you to use the factory sensors for determining the adjustments needed to get the perfect air-fuel ratio. By using the factory sensors, the tuner will be capable of getting the precise settings perfect for your bike.
You'll get to see the displays on your device, telling you what speed you're going at and the current RPM. Moreover, you'll also get to know the voltage, the gear selection, the temperature of the cylinder head, and other statistics.
This exceptional tuner will come with three programs to keep the ECM on your Harley-Davidson motorcycle perfectly adjusted. The programs are the data acquisition, the self-tuning solution, and the tuning software. Using the three programs, you'll be able to easily optimize your Harley-Davidson bike's performance. The tuner is incredibly easy to install, and you'll get to access the needed data to determine your bike's needs.
The tuner will work for Windows, but it isn't compatible with Apple computer software. It'll come with compatibility for almost all fuel-injected Harley-Davidson bikes. It can either be self-installed or you can get it installed at any motorcycle mechanic shop.
You'll be able to adjust the fuel injector flow rates such that it remains/returns to the perfect performance settings. Moreover, you'll also be able to make the needed adjustments to the factory-set RPM limits. Further, you can make the necessary customizations to the calibration of the speedometer. There will be as many as 20 tables that you can use to decide the perfect settings for your bike.
Conclusion
Thank you for reading. Hopefully, now you know more than enough about tuners to decide what is the best tuner for a Harley-Davidson bike. Different models of Harley-Davidson bikes will require different types of tuners. This is why the best tuner for your Harley-Davidson bike is the tuner that works well with it.
A tuner is a piece of equipment for enhancing the fuel management of your bike. It will make the needed calculations and adjustments to the fuel to air ratio in your bike. Using this handy little equipment can greatly increase the efficiency and life expectancy of your bike. Moreover, it'll also save you a ton of money on fuel consumption. All that you'll need to do is choose the right tuner for your bike. You must consider the make and model of your bike, as well as the features you want the tuner to have.