Do you own a Harley-Davidson bike, and you've been recommended to wear leather chaps but don't know why? If so, then you are in the right place, as here you will find out that and so much more.
Wearing chaps on a motorcycle has many benefits. Primarily, this clothing gear is intended to protect your legs from coming in contact with any external element that can potentially harm you. Chaps don't just protect you when you are riding, but if you end up falling from your bike, your legs will still be protected thanks to the chaps. Aside from that, chaps also make for a great biker outfit while also providing warmth if you're riding during winter.
In this guide, you will get to know all about motorcycle chaps, what are leather chaps, why wear chaps on motorcycle, different types of motorcycle chaps, and a lot more. Continue reading to get all the answers that you are looking for.
Motorcycle Chaps for Harley-Davidson Bikers
Motorcycle riding chaps are one of the most commonly recommended apparel for riding your Harley-Davidson motorcycle safely. They are usually created from leather to prevent you from obtaining abrasion injuries in case of a road accident. It will also provide improved protection and have better survival ability if you end up falling off your two-wheeler. These are meant to be worn over your pants or jeans. They will cover your legs and keep you warm.
Motorcycle chaps can be made up of many materials, but you'll definitely want to use leather chaps, as they will provide you the best protection all over. These chaps will allow you to wear your regular jeans or pants while also getting the protection of full leather pants.
What are Leather Chaps
Motorcycle chaps are often worn by people who are used to riding horses for protection from chafing or friction. These days, this clothing gear is thrown on for the same purpose by ranchers, equestrians, and others who also ride horses. Motorcycle chaps have become a staple for bikers for leg protection and road rash from falls or crashes. In the vogue world, leather is a rather reliable option for anyone who is seeking a polished yet edgy appearance. Nevertheless, outside the fashion world, leather is quite notorious for its functionality and practical properties, while it is also utilized by many people whose jobs demand a lot of manual labor outdoors.
Leather motorcycle chaps are useful when safeguarding the legs from external pressure or any other atmospheric factors. As they are manufactured using genuine leather, they are quite costly and range from $100 to $300.
Benefits of Wearing Chaps on Motorcycles
Harley-Davidson bikers wear motorcycle chaps for a wide variety of reasons, including –
1. Sufficient protection
Of course, motorcycle chaps will provide you with the necessary protection that you require in the event of a crash. They provide the requisite defense and support for your thighs and legs so that they don't undergo much while you're biking. Further, motorcycle chaps also serve as a barrier to water, oil, or any other slippery stuff.
2. Get maximum lower body movement
Motorcycle chaps offer maximum body movements as they'll shield your legs from crashes. If you want to enjoy the benefit, avoid choosing biker chaps that restrict your lower body, making it tough for you to move normally. Being able to move your lower body appropriately when riding a bike is essential, and the right-fitting motorcycle chaps will make your journey safe and more comfortable.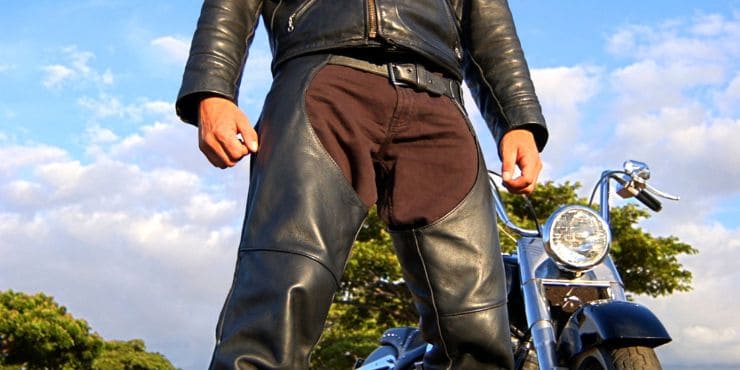 3. Long-lasting clothing
Motorcycle chaps are built to last a lifetime as they are made from durable materials like leather. Nevertheless, you must always examine leather apparel before you purchase it, as artificial leather chaps have flourished in the market in the last few years.  Leading motorcycle brands including Harley-Davidson manufacture their own protective gear too. It is recommended that you should choose your leather chaps from one of their clothing lines.
4. Serve multiple purposes
Motorcycle chaps come in various designs and sizes, so you can easily pick one that can serve many purposes. For instance, you will be able to buy chaps with zipper pockets that can hold your valuable things while you're on the road. Moreover, some motorcycle chaps are specifically made for men and women, which make your appearance more stylish while also safeguarding yourself.
5. Lightweight and comfortable
Another reason why bikers wear motorcycle chaps is that they're lightweight and extremely comfortable to wear, especially when they fit your legs perfectly. They are usually made using soft and supple leather. With their leather built, you will be able to put them on all day long. This will prevent you from wiggling around your seat when you're driving. To guarantee that you're purchasing the right chaps, you should always try and test one before you procure it.
6. Warmth during cold weather
On a freezing day, people who wear leather motorcycle chaps know that it'll feel like a permanent windbreak on your lower body. They will protect your legs from the wind, rain, and other elements. Are they warm to wear when it is hot outdoors? Not at all with the newest technology. They can also diminish the warmth that you feel from the engine in summer, based on how they're made.
7. Extremely stylish
If that's not enough, motorcycle chaps are also extremely stylish and trendy. They'll offer you a distinctive appearance that is not possible with traditional pants. If you're fed up with donning the same attires, you must consider motorcycle chaps. You will be able to change your ensembles with riding chaps and create a unique look.
Different Types of Motorcycle Chaps
There are primarily three different types of leather chaps. Here are the different types of motorcycle chaps –
Non-leather chaps
If you don't like leather, you can always purchase chaps made up of other materials. Ballistic nylon is prevalent stuff, and it'll offer you safety. However, they are not as warm as leather chaps. You can even find vinyl chaps that are high-quality and inexpensive. 
Half-leather chaps
Half-leather chaps are ideal if you are looking for chaps that extend from just below your knee to the ankle or the bottom of your shoes. They come with zippers or snap buttons. Besides, you can even discover them with Velcro or lace-up designs for a more accurate fit.
These chaps also offer a similar level of security on the legs' bottom half without being quite as warm as full motorcycle chaps. An excellent thing about these chaps is that they take up less space in the saddlebag if you plan on removing them and storing them.
Full-leather chaps
Full-leather chaps will cover your whole leg from the waist down to the ankle or your boots' bottom. They feature zippers or snaps that extend your leg's length such that you can wear and remove them effortlessly. Full chaps are commonly made up of buffalo or cowhide. They are available in many colors, but brown and black are the most popular options.
Things to Consider When Purchasing Motorcycle Chaps
Material used in the chaps
As mentioned above, motorcycle chaps come in many types of materials. However, leather is the most prevalent material used. When purchasing motorcycle chaps, make sure that you are buying one created from genuine leather. They will offer better protection, and they are much more comfortable. They can be thicker, so they could take time to break in.
Thinner leather chaps are of great quality too. They are as sturdy as thick leather chaps and conform to the wearer's body better. If you're looking for non-leather chaps, you should go for abrasion-resistant substances. They need to be heavy-duty, too. If they come with zippers, you should double-check the quality.
Size of the chaps
Acquiring motorcycle chaps in the correct size is difficult, as they must fit over the pants that you intend to wear while riding. It means that the sizing would be larger than your regular clothing. You also need to check the size chart of each model as they all differ. For the right fit, you should go for adjustable chaps. They will help you get a custom fit. You must plan your chaps' bottom to the proper length. 
Types of leather chaps
Another important factor to consider is the type of chaps you're going for. Which type of chaps do you feel most comfortable donning? It is recommended that you should try them on first so that you are certain. If possible, you should sit on your two-wheeler for a while to see if they're as comfortable during rides. Additionally, you should consider the weather that you will be riding in. The type of chaps you should be wearing will depend on this. In winter, full chaps will provide you with better warmth than half chaps. In case you're riding during summer, you can go for half chaps.
FAQs
Can only cowboys wear leather chaps?
Cowboys generally wear leather chaps. However, motorcycle riders also use leather motorcycle chaps for protecting their legs. Only, in this case, they're protecting themselves from something that is a bit more agonizing than simply scratching up your legs on bushes or grass. Instead, they are protecting themselves from road rash in the unfortunate event that their motorcycle takes a tumble.
In which weather can you wear motorcycle chaps?
You can wear motorcycle chaps in every weather, be it summer or winter. If you love riding your bike during the winter, getting lined insulation will be beneficial. With motorcycle chaps, you'll want them to be tight enough that they don't flap around, but still offer ease of motion and comfortability on your motorcycle. Remember to have the right amount of slack on your chaps.
How much do motorcycle chaps cost?
When you're purchasing motorcycle chaps, you should remember that you're going to get what you are paying for. You should be prepared to spend a couple of hundred dollars or close to it. However, you must be assured that with proper care, motorcycle chaps can last up to 2–3 decades. To get motorcycle chaps, you will require fine leather that doesn't get tanned cheaply. Once you've determined the leather you want, you should have a close look at things like the rivets, the grommets, the buckles, and the zippers.
What is the purpose of motorcycle chaps?
The most important thing when taking out your motorcycle, besides having a total blast, is to do this safely. Motorcycle chaps will help keep you safe in case you fall off of your motorcycle. They also help in keeping you safe and away from some of the harsher natural elements you'll find yourself in. Leather motorcycle chaps are imperative to have on your safety gear, so you should spend a great deal of time thinking about which motorcycle chaps are best for your needs before you purchase them.