Are you an avid biker looking to purchase a new motorcycle, but you're struggling to decide between Triumph and Harley-Davidson? If yes, then this blog is just the right place for you.
Triumph vs. Harley-Davidson is a debate that most bikers have when they're looking to purchase a new bike. Both of them are major brands in the motorcycle market, but Harley-Davidson has a stronger and more buffed design. Meanwhile, the Triumph motorcycles are more stylish and elegant. Further, bikes from this brand can be easily customized and the kits and parts available for these bikes are close to innumerable. Ultimately, the final choice will depend on your personality. Further, you will also need to ride the bike before making the decision.
In this article, you will get to know all about the Triumph vs. Harley-Davidson debate, the variety of bikes available, the performance of the brands, the ease of use, the brand power of the two companies, and more. Continue reading to get all the answers that you are looking for.
Triumph vs. Harley-Davidson Motorcycles
Fans of anything, especially of a sporting nature, will ultimately divide themselves according to their obsessions and interests. For motorcycle enthusiasts, there are two camps, and they are the lovers of Harley-Davidson vs. bikers who prefer Triumph motorcycles.
Of course, the most obvious distinction is that Harley-Davidson is a popular American brand while Triumph is a famous British company. Both bikes are symbols of adventure as well as a superior lifestyle of elegance and comfort. Accordingly, these two bikes are quite pricy and have high status in biking circles. The big question here is what which bikes are better in the Triumph vs. Harley-Davidson debate.
Triumph and Harley-Davidson are the beasts that motorcycle lovers often look to when buying new bikes. While Harley-Davidson is American, Triumph is from Britain. The fuel-guzzling motorcycles have become symbols of adventure, comfort, and superior lifestyle. Both of these brands are known for manufacturing high-quality, heavy motorcycles that are stylish, comfortable, reliable, and smooth to ride. Both Triumph and Harley-Davidson bikes come with hefty price tags, giving the bikers the privilege of a luxurious lifestyle. Triumph and Harley-Davidson have their respective niche markets. Both of them have their distinct advantages and disadvantages. 
Triumph Motorcycles Ltd. or just Triumph has a wide range of motorcycles on offer. Its range includes cruiser bikes, street fighters, sport tourers, sport bikes, and retro bikes. Meanwhile, Harley-Davidson manufactures only two types of heavy bikes – cruisers and tourers while also featuring sport bikes, electric bikes, and more. The Harley-Davidson 883 Sportster is the all-time best cruiser bike. Meanwhile, the iconic Harley-Davidson Electra Glide Ultra is a long-haul luxury tourer from the brand. All other models released by Harley-Davidson have quality and satisfaction levels between the two extremes. Depending on your need, you can choose the perfect bike for you. If you want something else, then Triumph also offers a wide choice of quality bikes.</p>
Triumph vs. Harley-Davidson – History
Harley-Davidson was founded back in 1901, with the brand getting its start when two Milwaukee boys created the first motorcycle model in a small wooden shed in Milwaukee. William S. Harley and Arthur Davidson were just 21 and 20 years old respectively when they started the brand.
By the early 1920s, the motorcycle brand had already become the largest producer of motorcycles, with over 2,000 dealers operating in 67 countries. The following year, Harley-Davidson debuted its 74-cubic inch V-twin engine. The introduction of this revolutionary engine established a layout that is similar to the ones in Harley-Davidson bikes that remain in production to this day.
These days, Harley-Davidson is best known for being the longest-running motorcycle brand in America. The brand continues to produce the big V-twin models that the brand has always been known for. The company has evolved and includes other designs like Touring bikes, Sport bikes, Electric bikes, and more.
Triumph Motorcycles Ltd. is a company that started after Siegfried Bettmann emigrated from Germany to Coventry, England in 1885 and started selling bicycles as the Triumph Cycle Company. 3 years later, the company manufactured the first Triumph-branded bicycles and by 1902, it had already added an engine to produce its first motorcycle.
World War I turned out to be a boon for the company, which provided over 50,000 "Trusty Triumphs", the model that H Roadster cited as the first modern bike, to the Allied forces.
Triumph expanded into automobiles after purchasing the Dawson Car Company in 1921, but it split the car business from bikes in 1936. Over the next four decades, Triumph introduced the parallel twin performance engine, set multiple speed records and race victories, while also cementing itself as an innovator and performance leader. The brand became popular with the likes of Steve McQueen, Elvis Presley, Bob Dylan, and other A-list celebrities. The brand became popular for imbuing biking with a sheen of glamour and dominating motorcycle sales worldwide.
Triumph vs. Harley-Davidson – Variety
Triumph offers a wide range of heavy motorcycles for its customers. They have sports bikes, cruisers, street fighters, sport tourers, and retro bikes.
In contrast, Harley-Davidson manufactures two heavy motorcycle types –cruisers (bar hoppers) and long haul tourers. The Harley-Davidson 883 Sportster is a bar bopper and is considered to be one of the best one-person cruiser bikes. The Harley-Davidson Electra Glide Ultra, on the other hand, is a great long haul tourer. These two motorcycles are the best models in each of the two niches. If these are not what you are looking for, then Triumph could be a much better option.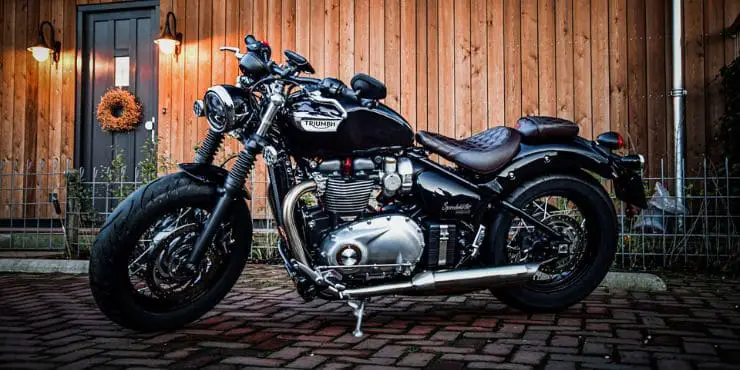 If you're looking for something that will give you more choices when it comes to heavy motorcycles, then Triumph would be a better choice. Triumph makes motorcycles for all sorts of bikers, while Harley-Davidson largely has mainly two types, but there are other options too.
Harley-Davidson offers a vast lineup with the above types of bikes as well as many others. The popular model families include Road Glide (Touring), Iron (Street), LiveWire (Electric), and Pan America (Adventure Touring) bikes.
 The tastes of bikers tend to change over time. As you grow older or become more skilled or become a different person, you might want to try something different. At different points in your life, you'll be attracted to different models or different brands.
Triumph vs. Harley-Davidson – Performance
Many Triumph motorcycles are capable of outrunning their Harley-Davidson counterparts. An exception to this rule is Harley-Davidson's 883 Sportster against the basic Triumph Bonneville. Most people consider the Harley-Davidson 883 Sportster to be one of the best one-person bar hoppers of all time. 
For bigger bikes, the performance differential will become even larger. For instance, Triumph's Rocket III Tourer is much superior to Harley-Davidson's Road King. If you're looking for powerful performance on heavy bikes, then Harley-Davidson bikes will easily be the superior choice.
Triumph vs. Harley-Davidson – Brand Power
Not everyone might care about this, but brand power does matter to an extent. When it comes to brand power, Harley-Davidson is undoubtedly ahead. In fact, most non-bikers will be more likely to know and admire the name "Harley-Davidson" than "Triumph". The brand of the former is a part of pop culture, with many Harley-Davidson bikes also being seen in the movies.
This brand is a cultural icon. Brand power matters because a big part of the appeal of riding bikes is the coolness factor. People want to feel cool, and bikers are considered to be the coolest of the bunch. When your motorcycle brand has an iconic name and its bikes have a sleek look of luxury, power, and high status, it is only natural that many people, especially beginners, would be eager to be a part of it.
Further, and more importantly, the ubiquity of the Harley-Davidson brand means that you can have these bikes worked on anywhere, whether it is repairing, upgrading, or having the parts swapped. It isn't difficult to swap parts like a Harley-Davidson headlight or fix the windshield or upgrade the bike's battery.
It is easy to find a Harley-Davidson dealership close to your location quickly. Meanwhile, Triumph isn't as ubiquitous. However, among seasoned bikers, Triumph is quite popular for its performance and technical capabilities of the bikes.
Triumph vs. Harley-Davidson – Ease of Use
Everyone wants to ride a motorcycle, as people who ride one often look incredibly cool. However, most people don't go beyond wanting because there is a huge learning curve. Some motorcycles make learning easier, while some of them aren't as friendly to the beginner.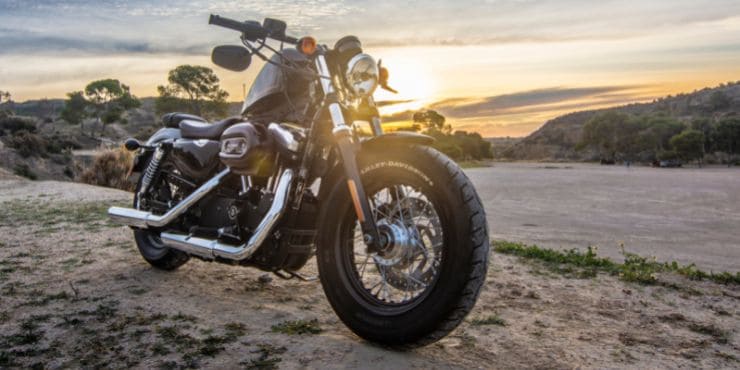 The great thing about Harley-Davidson bikes is that they aren't very demanding. This makes it easier for the biker to attain the necessary competence level. Some other motorcycles might require more rider competency. As already mentioned, Triumph bikes are quite popular with seasoned riders.
Triumph vs. Harley-Davidson – Ride Quality
Ride quality is one of the key factors that many bikers use to gauge if they should purchase the bike. It refers to the motorcycle's ability to insulate the rider from bumps or potholes in the road surface. When a motorcycle has good ride quality, you will be able to ride in comfort. When the right quality is high, you will be able to ride for long periods of time without having to stop for a break.
Opinions on ride quality can be relative, as what some people like might be different from what other people may dislike. For instance, while Triumph motorcycles provide a smooth ride, Harley-Davidson motorcycles have vibrations and mechanical noises, but some tend to enjoy that.
Triumph vs. Harley-Davidson – Repair
The Annual Product Reliability Survey by Consumer Reports National Research Center points out that Harley-Davidson and Triumph customers have reported 26% and 29% repairs and serious problems respectively. Although Harley-Davidson's performance on this parameter is a bit better than that of Triumph, surprisingly, both brands lag significantly behind Yamaha (11%), Suzuki (12%), Honda (12%), and Kawasaki (15%). 
The survey result also revealed that Harley-Davidson was given a higher overall reader score in terms of bike satisfaction than that of Triumph. Triumph got 63 while Harley-Davidson got 72. The survey parameters included comfort, owner satisfaction, fun factor, styling, acceleration, handling, and cost of maintenance & repair.
When it comes to performance, both Harley-Davidson and Triumph fans have their respective versions of the truth. Most people who have owned both Harley-Davidson and Triumph bikes believe that the latter offers better performance than the former in almost all comparable motorcycle categories.
Triumph vs. Harley-Davidson – Retro against Modern
Harley-Davidson motorcycles tend to feature a more traditional or olden style, for the sake of nostalgia. The Harley-Davidson brand is built on this, similar to many other historic brands. You can get the sense that a Harley-Davidson motorcycle is an imperishable commodity, a classic. This is what its customer base wants from its bikes.
On the other hand, Triumph has a much more modern outlook and production plant. Harley-Davidson might be slightly held back by its heritage or customer expectations, but Triumph has the freedom to make motorcycles that are modern and technically advanced. This can explain why they have got a larger range of available motorcycles, while Harley-Davidson focuses largely on cruisers and long haul tourers.
However, remember that Triumph has its own nostalgic bikes as well. Similar to Harley-Davidson, Triumph has got a glorious past and capitalizes on that with models that have a retro style and look. Modern Triumph motorcycles feature technology like ABS and traction control, heated seats, and digital displays. If you're looking for something a bit more traditional, then Harley-Davidson is the choice. Meanwhile, if you're looking for a sporty, modern ride, then select Triumph motorcycles.
FAQs
Is Triumph owned by Harley-Davidson?
No, Harley-Davidson isn't actually owned by Harley-Davidson. The company Triumph Motorcycles Limited is a 100% privately owned company. However, according to the company, the spirit of Triumph actually belongs to you, the rider.
Is Triumph older than Harley-Davidson?
Both Harley-Davidson and Triumph are reputed brands with over 120 years worth of history. The roots of Harley-Davidson can be traced back to 1903 and 1903 for Triumph.
What is so special about Triumph motorcycles?
Modern Triumph bikes are known for their retro style and heritage design while also incorporating modern technologies. Moreover, the brand provides consumers with a collection of amazing performance and touring bikes.
Is Triumph a German company?
In 1885, Siegfried Bettmann came to Coventry, England from Germany. However, Triumph is actually a 100% UK-based company that was started back in 1902.