Are you an avid biker, and you're contemplating whether to go for Harley-Davidson or Kawasaki? If so, then you're definitely in the right place.
Harley-Davidson vs. Kawasaki are two of the most prominent names when it comes to the biker world. If you're looking to buy a new bike, these are two of the first names to consider. The two brands come with their own set of positives, price points, and types of bikes.
In this article, you'll get to know all about Harley-Davidson bikes, Kawasaki bikes, a brand comparison of Harley-Davidson vs. Kawasaki, some of the best offerings from the two brands, and more. Continue reading to know all the answers that you're looking for.
Harley-Davidson vs. Kawasaki
Whenever an aspiring biker thinks of biking royalty, Harley-Davidson is one of the first brands to pop into mind. The brand has garnered an impressive reputation for machismo and freedom on two wheels that not many brands can match. However, brands like Kawasaki aren't too far behind, especially in the sports bike section. The aspiration levels of Harley-Davidson haven't dipped despite being in business for over a century. Who wouldn't want to have a powerful Harley-Davidson beast in their garage? 
In recent times, Harley-Davidson has brought forth a new wave of revolutionary bikes. These bikes offer even better opportunities for bikers to capture the spirit of iconic Harley bikes without splurging big money. Kawasaki has similar ideas in mind, as the Japanese brand is also looking to make big waves in the biker scene. Kawasaki has ridden into the cruiser segment monopolized by Harley-Davidson and released its own signature cruiser bikes.
Kawasaki offers a wide range of motorcycles – from small entry-level bikes to off-road models, standard cruisers, touring bikes, and more. Kawasaki's Vulcan bikes are the closest competitors to Harley-Davidson's core lineup. The collection tops out with the Vulcan 1700 Voyageur, a loaded V-Twin touring model with standard ABS and saddlebags.
Kawasaki – The history of the brand
The brand known as Kawasaki Heavy Industries these days was founded as a shipyard back in 1878 in Japan. Production quickly diversified into the airplane and train industry. It took the company until 1961 to produce its first official motorcycle.
The American division of Kawasaki Motors got established in 1966 in a warehouse in Chicago. The first Kawasaki-manufactured motorcycles sold in the United States had the Omega brand name. The initial bikes were followed by bikes called Avenger and Samurai, which got branded as Kawasakis. Kawasaki then opened an East Coast distribution company, which relocated to California alongside the Chicago branch in 1968. From there on, the business took off within a short span of time.
Kawasaki sportbikes started growing in popularity alongside other personal crafts like jet skis and ATVs. Now, Kawasaki Motors Corp., U.S.A. is located in Foothill Ranch, California. The brand has been producing bikes in the US since the mid-70s. The manufacturing facilities in Maryville, Missouri and Lincoln, Nebraska are generally credited as pioneers for international vehicle companies tasked with manufacturing locally for regional markets.
Kawasaki – A versatile collection of motorcycles
Kawasaki is largely known for manufacturing top-tier sportbikes and most of its recent lineups consist of different variations of the popular Ninja. Recently, the brand also released a lineup of off-road bikes and bikes suitable for both on-road and off-road use. These lineups are known as the KX and KLX. The former is offered in a variety of youth sizes for aspiring biker champions. For bikers who prefer touring style and cruiser style bikes, Kawasaki bikes offer many of those too. Some models include the Vulcan, which comes in sport, touring, classic, and bagger cruiser styles. The W café racer features eye-catching retro styling will be another option.
Kawasaki is popular for being a great brand for beginner bikers. They're perfect for riders looking for lightweight, easy-to-ride motorcycles with small displacement engines. These motorcycles are fairly inexpensive, and they're a great way of getting a feel for the hobby before upgrading to larger and more powerful machines. However, it doesn't mean that there's a lack of choices for new bikers. Some of the best options for new bikers include Kawasaki's Z125 Pro line, a nimble yet resilient KLX off-road line, and the low horsepower models of the Ninja lineup.
As for accessories, Kawasaki offers a wide variety of options across the range for current and older bikes, going as far back as decades. The list of available add-ons includes luggage and storage options, carbon fiber body panels, handlebar adjustment parts, and performance upgrades like sport exhaust systems.
Different types of Kawasaki bikes available in the market
Kawasaki Cruising Motorcycle
Kawasaki's current cruiser motorcycle is the signature Vulcan. However, as per Kawasaki, there are many Vulcan models available for the sports cruiser, bagger cruiser, classic cruiser, and touring cruiser sub-segments.
The cruiser bike category is a comfortable and practical way of traveling long distances thanks to the relaxed, slightly reclined seating position and the handlebar height that enables your shoulders to remain relaxed. Interestingly, this is a design made popular by American brands like Harley-Davidson. However, it got adopted by several European and Japanese manufacturers a few decades ago. Cruiser bikes are popular for having a lot of bottom-end power and torque. Each Kawasaki Vulcan cruiser bike has its own set of characteristics to suit different riding preferences.
Kawasaki Sport Motorcycle
Sport motorcycles are chosen for their performance, including acceleration, speed, braking, and handling abilities. These bikes are street legal, but used for competition as well. For these reasons, they should be best left for experienced bikers. Although, smaller-displacement sports motorcycles could be a good option for beginners. The Ninja and the Z Motorcycle are the primary sport motorcycle lineups of Kawasaki.
Kawasaki has divided the Ninja lineup into Sport and Supersport sub-categories. The models from the present and the past ensure that the bikers have countless choices. The Ninja Sport lineup comes in 400, 650, and 1000 variants while also featuring special editions. Meanwhile, the Supersport Ninja lineup includes the Ninja ZX-6R, the ZX-10RR, the ZX-10R, the ZX-14RR ABS, and other special editions.
Meanwhile, the Z Motorcycle lineup consists of models in the Super Naked, Mini Naked, and Retro Sport sub-categories. The Z Motorcycle lineup features the Super Naked Z400 ABS, Z650, Z900, and the Mini Naked Z125 Pro. The Retro Sport Z900RS tops off this lineup. Some bikers consider the Z models to be closer to standard bikes than sports motorcycles in terms of purpose and styling.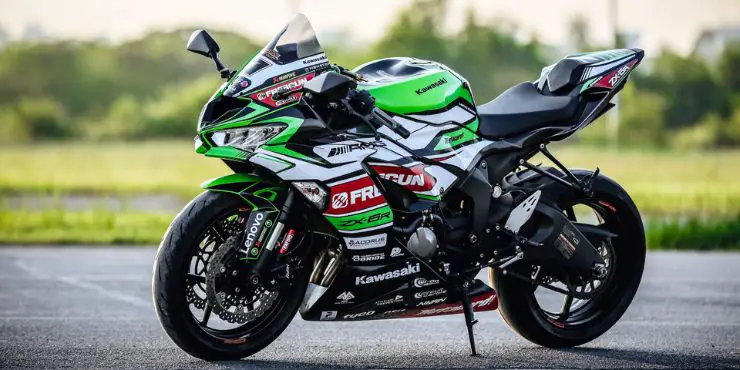 Kawasaki Touring Motorcycle
Kawasaki's touring motorcycles include the Concours line and the Versys line for supersport touring, and they're designed for adventure cruising. 
Some bikers might not understand the difference between cruiser bikes and touring bikes. This is understandable, as they're both large and powerful bikes. However, touring bikes are far better suited to long trips than cruisers, with more comfort and capability to carry cargo. There are some touring bikes specifically designed for carrying passengers, with tweaks to their overall engineering and design instead of just featuring a bigger seat.
Kawasaki Off-road Motorcycle
The Kawasaki KLX models are the brand's off-road motorcycles. Some off-road bikes are dual-purpose (suited for both on and off-road use) while others are exclusively off-road. 
Off-road bikes, also known as dirt bikes, are designed for handling beaches, rough terrain on trails, and even race tracks. Large, knobby tires offer a lot of traction on a variety of surfaces and conditions. Meanwhile, the suspension is designed to withstand hard landings, jumps, and tricks. Remember, if you're shopping for off-road bikes, make sure to check if they're road legal.
Harley-Davidson – The history of the brand
Founded back in 1903, Harley-Davidson got its start when two young partners from Milwaukee created their first production model in a 10 by 15 feet shed. Arthur Davidson and William S. Harley were only 20 and 21 years old respectively when they created Harley-Davidson. 
By the early 1920s, Harley-Davidson became the largest producer of motorcycles, with over 2,000 dealers operating in 67 countries. In 1921, the 74-cubic inch V-twin engine design officially debuted. It established a layout that's closely established to the Harley-Davidson bikes that remain in production today.
Harley-Davidson is now known for being the longest-running motorcycle brand in the United States. The brand has managed to survive rocky financial times and multiple ownerships. Still based in Milwaukee, the brand continues making the big V-twin models that it's best known for. However, the lineup has evolved to include many other designs, recently adding electric motorcycles.
Harley-Davidson – Excellence in different segments of motorcycles
Harley-Davidson built its reputation and name around the large displacement cruiser and saddlebag-equipped touring bikes or bagger models. Equipped with two-cylinder V-twin engines that displace anywhere from 500 to 1,923 cubic centimeters. Bikes like Sportster Iron 883 and touring model Electra-Glide deliver distinctive sound and are usually associated with the brand. 
While the brand still offers countless choices in the classic categories, there are several new models in different series in the recent lineups. The brand is also known for three-wheelers, police motorcycles, and smaller displacement 500cc and 750cc standard models. Another great addition is the Livewire Street Bike, which is the brand's first street-legal electric motorcycle.
There are multiple electric Balance Bike scooter models for kids, with these electrics representing a radical departure for the brand. These are the first of the planned full line-up of electric city and recreational two-wheelers intended for drawing new audiences. 
Harley-Davidson also offers a variety of factory customization options for different models in its lineup and other accessories through dealers. The prices range from under $7,000 for the 500cc Street 500 to almost $44,000 for the fully loaded CVO models. The top-of-the-line Harley-Davidson series includes the three-wheel CVO Tri-Glide and CVO Street Glide. Moreover, there are also the Road Glide Limited and Low Rider S alongside a newly available suite of security and safety features called Reflex Defensive Rider Systems (RDRS). Aside from adding safety systems including ABS braking and traction control, RDRS will allow the users to remotely monitor their bike's location, fluid levels, and other details using their smartphone.
Different types of Kawasaki bikes available in the market
Harley-Davidson Electric Motorcycles
Electric motorcycles have been gaining in popularity and attracting new customers. A brand as esteemed and steeped in tradition as Harley-Davidson has been following new trends to gain new users. Electric motorcycles are pretty easy to ride and handle. They offer instantaneous response and performance without requiring shifting or clutches. The maintenance is minimal, which adds to the appeal, especially for urban riders. In 2020, Harley-Davidson came out with its first fully electric model – the Livewire. This is just the first one, and there are more electric motorcycles coming out in the short-future.
Harley-Davidson Livewire offers instantaneous performance at the twist of the throttle without requiring any clutch or shifting. It's an incredibly easy bike for beginners to handle. There are 4 preset driving modes and the option to create up to 3 more modes make it easy to control performance and response to match the biker's ability. The standard traction control and the anti-locking braking system (ABS) offer added security. Meanwhile, a phone app will let you monitor the bike's location, charge level, and battery status. With a range of up to 146 miles, the bike can be fully charged overnight via a typical outlet in your house. 
Harley-Davidson Cruising Motorcycles
Cruiser motorcycles offer the comfort and power for extended highway riding. Moreover, this bike has been a Harley-Davidson specialty if you're out to explore back roads and long trips. The cruiser lineup includes models from Harley-Davidson Street bikes to the Harley-Davidson Softail bikes.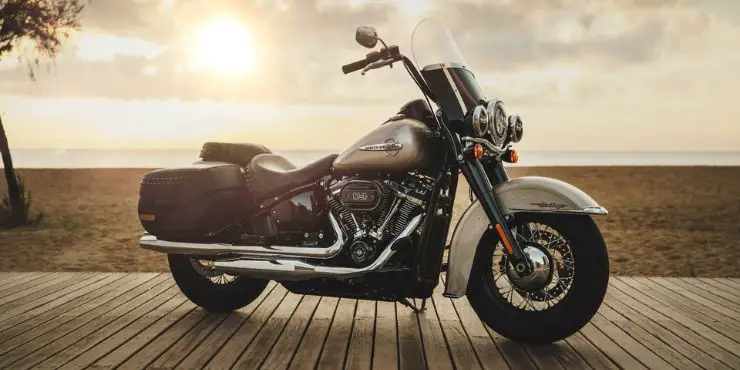 Harley-Davidson Standard Motorcycles
Harley-Davidson standard bikes are the traditional designs, usually with an upright seating position and fairly easy on the frills. These bikes are designed for around-town riding and commuting instead of long-distance traveling. The standard bikes are lighter and much more maneuverable compared to cruisers or touring bikes. Most standard bikes can accommodate the driver and a passenger and feature small to midsize engines. Harley-Davidson manufactures four models in this category – the Iron 883, Iron 1200, Roadster, and Forty-Eight.
Harley-Davidson Touring Motorcycles
Harley-Davidson touring bikes offer more than enough power and a comfortable ride for all-day traveling. These come with saddlebags and other storage compartments for accommodating clothing and gear for long journeys. Also known as dressers or braggers, touring bikes typically include a windshield and front fairing for shelter from external elements. Many models include creature comforts like heated gloves, stereo systems, and a communication system for allowing helmeted drivers and passengers to talk to each other on the road. Harley-Davidson takes credit for inventing this category in the 60s, and has long been known for touring bikes like the Road Glide and Electra Glide. The lineup has grown tremendously over the years and now includes eleven new models that offer a large range of features. If you feel the stock bikes don't have enough variety or features, Harley-Davidson also offers a range of additional accessories to customize your bike and make it your own.
Conclusion
Thank you for reading. Hopefully, now you know a lot more about Harley-Davidson bikes, Kawasaki bikes, a brand comparison of Harley-Davidson vs. Kawasaki, the history behind the two brands, the different types of motorcycles the two brands offer, some of the best bikes from the two brands, and more. Harley-Davidson vs. Kawasaki are two of the most prominent names when it comes to the biker world. If you're looking to buy a new bike, these are two of the first names to consider. The two brands come with their own set of positives, price points, and types of bikes which you got to know about here.