Are you a Harley-Davidson biker looking to find out exactly how much mileage can your bike give? If yes, then you are definitely in the right place.
How many miles per gallon does a Harley-Davidson get is a common question that most bikers have. Generally, the average mileage of most Harley-Davidson bikes falls into a range of 38 to 65 MPG (miles per gallon), with an average of 44 MPG. To be more precise, most Harley-Davidson bikes give around 30 to 45 MPG in the city while giving 40 to 60 MPH on highways.
The most fuel-efficient Harley-Davidson bike is arguably the Harley-Davidson Sportster 883 and the Harley-Davidson Street 750/550 models. The fuel mileage of these motorcycles will range from 50 to 65 MPG. On the other end of the spectrum are the large touring bikes like the Road Glide, Road King, and Street Glide, which come with a mileage of 38 to 42 MPG.
In this guide, you will get to know all about the mileage of Harley-Davidson motorcycles, how many miles per gallon does Harley-Davidson get, how many miles can a Harley-Davidson bike go on one tank, how fuel efficient are Harley-Davidson bikes compared to other brands, and more. Stick around to get all the answers that you are looking for.
How Many Miles Per Gallon Does a Harley-Davidson Get
Tearing up the highways and open roads is a dream of almost every Harley-Davidson biker. The authority and performance of a Harley-Davidson bike are truly unmatched. This is even more so the case with the newer bikes that have advanced riding technologies like ABS Traction Control, Relex Defensive Riding System (RDRS), Engine Brake Control, and more. It should come as no surprise that many riders wonder how many miles per gallon does a Harley-Davidson get in today's economy.
The average mileage of Harley-Davidson bikes is between 35 and 65 MPG, with an average of 44 MPG. Most Harley-Davidson bikes are capable of giving around 30 to 45 MPH in the city, while you can get 40 to 60 MPH on highways. The most fuel-efficient Harley-Davidson bike is the Harley-Davidson Sportster 883 and the Street 750/500 models. The mileage of these bikes ranges between 50 and 65 MPG. On the other end of the spectrum are the large touring bikes such as the Road Glide, Road King, and Street Glide. The mileage of these bikes is between 38 and 42 MPG.
Harley-Davidson bikes aren't exactly known for their fuel efficiency. However, the numbers prove that these bikes are very capable of outperforming many most other motorcycles. The company has a long history of delivering iconic bikes capable of giving splendid performances. Moreover, the average mileage of 44 miles per gallon certainly doesn't disappoint, especially considering the power-packed engines do get a little thirsty from time to time.
How Many Miles can your Harley-Davidson Bike Go on One Tank
Harley-Davidson bikes are capable of going almost 150 to 200 miles on one tank of gas. However, there are some models that can go as far as 250 to 270 miles. The fuel range of a Harley-Davidson bike will depend on its fuel mileage and fuel capacity.
The most common fuel tank sizes of Harley-Davidson bikes are between 2.1 and 6.0 gallons. You'll find that the smallest (2.1-gallon fuel tank) is used in the Forty-Eight. True to the name, this bike gives 48 MPG, which ensures you get a fuel range of around 100 miles.
Harley-Davidson has reserved its 3.3-gallon fuel tank for the Harley-Davidson Sportster family. Due to its size and design, this tiny fuel tank has bagged the nickname "peanut". These motorcycles can get around 45-52 MPG combined, which means they are capable of going around 150–170 miles on a full tank of gas. Certain Sportster models come with a larger 4.5-gallon fuel tank, which increases the fuel range to 200–240 miles.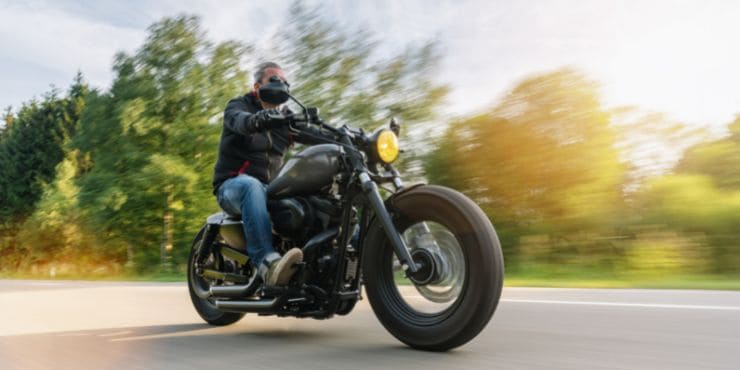 The fuel capacity of most Cruiser and Touring Harley-Davidson models varies between 4.5 and 5.1 gallons. This will allow you to ride around 200 to 250 miles between the fill-ups.
However, there are a few special Harley-Davidson models like the Harley-Davidson Street Glide and Road King Special that come with a massive 6-gallon fuel tank. As the fuel mileage of these bikes is around 45 MPG, they're capable of going around 250 to 270 miles on a tank of gas.
Keeping the safety factor in mind, it would be a mistake to let your tank dry out completely. For instance, on a 6-gallon fuel tank, the Low Fuel warning light will come when only 1 gallon of gas is left. The best practice would be to refill the tank before the lights come on. If you're looking to go for an extended fuel capacity, you can always go for any of the aftermarket Harley-Davidson fuel tanks.
The fuel efficiency of a motorcycle is essential. Unlike cars, motorcycles have limited space for the fuel tank and are only capable of traveling limited distances between refills. Due to smaller fuel tanks, bike owners usually rely on efficiency to go for as many miles out of a gallon of gas as possible. It is important to note that motorcycles with higher-revving engines consume more fuel. For instance, the 2014 Harley-Davidson Dyna Low Rider has a 4.7-gallon tank, but it usually averages 150 miles from a tank full of gas.
This is a much more aggressive motorcycle, which means that it is being revved high in lower gears. The Sportier riders tend to drive down the average, while reasonable riders can get slightly more than 150 miles out of a full tank.
City and highway riding will also have different MPG ratings. This happens because, in a city, you need to change gears and throttle up and down, stop at intersections, make turns, observe slow traffic, and more. This keeps your bike in gears 1 to 3 with sporadic revving and uses more fuel.
On the other hand, highway riding will have the potential of using less fuel as the bike is using higher gears for traveling at a constant speed. Moreover, the turns are minimum, and the traffic is going in the same direction at the same rate. 
Bad riding habits will also play a major role in how far the gas tank can go. A rider who revs the motorcycle unnecessarily and makes random gear changes can make the mileage worse compared to a biker who has calculated riding habits.
How Fuel-Efficient are Harley Motorcycles Compared to Other Brands
Based on reports, Harley-Davidson bikes have an average mileage of 44 MPG across motorcycle models for highway riding. Other brands like Triumph and Kawasaki can deliver a mileage of 47 MPH and 49 MPG respectively.
The fuel efficiency will be somewhat in the middle of the spectrum when compared to other motorcycles in the same range. The lowest in the Harley-Davidson range seems to be the Electra Glide, Street Glide, and Road King modes, which average around 38 miles per gallon. Of course, how you ride your bike will also contribute to its average miles per gallon.
If your motorcycle is intended for highway use (such as the Road Glide or Street Glide, and you use it for doing stunts around the town, it'll deliver poor gas mileage. If you are getting a low MPG average, it'll drive down the average, although owners of proper highway-ridden baggers can deliver 47 or 48 MPG.
Some bikers choose fun and power over fuel efficiency when it comes to Harley-Davidson bikes. With that said, there are many Harley-Davidson riders that use their touring bikes for touring, commuters for commuting, and carrying out routine maintenance, which also contributes to a higher MPG average.
What can be Considered High Mileage for a Harley-Davidson Bike
A Harley-Davidson bike that is properly tuned, well-maintained, and ridden her the company's suggested use will offer mileage in the 44-54 per gallon range.
This is the highest most Harley-Davidson bikes will go without any modification on the bike. As mentioned earlier, engine upkeep, riding conditions, and the rider's habits will affect the bike's mileage.
Harley-Davidson's FX Series is known for giving upwards of 45 miles per gallon. These bikes are some of the most fuel-efficient options in the Harley-Davidson lineup.
By today's standards, 160 miles and above on a Harley-Davidson bike is largely considered good mileage. In fact, other manufacturers of big touring motorcycles in the same range as Harley are capable of giving more miles per gallon. Seeing this trend, Harley-Davidson bikes are often ridden hard and fast.
A completely stock Harley-Davidson with no modifications would fare much better than third-party aftermarket modifications, especially anything to do with fuel, air, or exhaust. This happens because Harley-Davidson bikes are designed and factory-tuned such that all its engine components work in unity and achieve deal average fuel efficiency.
Meanwhile, aftermarket modifications introduce foreign, third-party parts into the mix. These parts are designed by other engineers for enhancing a particular aspect of engine performance. This enhancement sometimes comes at a cost, and usually, the cost is the Miles Per Gallon.
Which Harley-Davidson Models are the Most Fuel-Efficient
The Harley-Davidson Sportster series, which includes the Harley-Davidson XL 883s and the XL 1200s, comes with fuel tank capacities ranging from 3.3 gallons to 4.5 gallons. These models have miles per gallon ratings that range from 45 MPG to 59 MPG.
The Sportster has a small stock tank, which makes it a double-edged sword of choice if fuel economy is your top priority. The Harley-Davidson XL 883L Sportster, for instance, has a 3.3-gallon fuel tank, but it is capable of reaching about 45 to 55 MPG on a full tank of gas.
With the XL Sportster series, a fuel-efficient bike does not entirely mean that the fuel tank is big. In fact, half of the XL Sportster Series models feature fuel tanks below 4.0 gallons, but it still manages to give MPG of over 59. 
The other fuel-efficient options include the Harley-Davidson Street 500, Harley-Davidson Street 750, Harley-Davidson FLSTF Fat Boy, Harley-Davidson FLSTC Softail, and Harley-Davidson Road King Classic. All these models have fuel tanks that range from 3.5 gallons to 5 gallons. When it comes to miles traveled, they can go between 38 to 48 miles per gallon, which is quite fuel-efficient for a Harley. 
Another factor that is often overlooked when it comes to fuel efficiency is the motorcycle's age. 
Moreover, older models tend to be carbureted while newer models are fuel injected. Fuel injection is much more efficient than carbureted options, which boosts the MPG of all Harley-Davidson bikes. Newer models have efficient technology for enhancing the engine's performance while also keeping fuel consumption low.
The motorcycle drags dead weight with lower tire pressure, which results in it using more fuel. Even unrelated technologies like Tire-pressure monitoring can be helpful in giving higher mileage.
Increase the Mileage of your Harley-Davidson Bike
The best practices to increase the MPL for a Harley-Davidson bike include regularly servicing the bike, avoiding third-party modifications, and keeping an eye on your riding habits. Your riding habits will go a long way in saving fuel on your motorcycle, Smoother gear changes and regulated speeds will be your best bet for increasing mileage.
Taking proper care of your bike will also mean that it'll take care of you and your pockets, especially in terms of repair. It'll also be best to remember that modifications can increase the mileage of your bike.
The primary issue with Harley-Davidson bikes and mileage is that the OEM's engineering wasn't always geared towards fuel efficiency until fuel injection was introduced in the early 2000s. In other words, older Harley-Davidson bikes will have lower-than-average MPGs compared to the newest models of the same line.
The company's goal of reaching 50 MPG for its bikes definitely signifies a change in the brand's direction when it comes to fuel efficiency. While the company has spent many decades prioritizing power style, the newest technological developments have integrated themselves into the designs.
FAQs
What is considered high mileage for a Harley?
Harley-Davidson bikes can usually deliver more miles without their engines getting worn down quickly. For these bikes, high mileage is considered to be around 40,000 to 50,000 miles.
What is the most powerful Harley-Davidson engine?
The Screamin' Eagle 131 Performance Crate Engine is the most powerful engine released by Harley-Davidson. This engine is capable of leaving other riders in the dust with the biggest and most powerful street-compliant crate performance engines.
How big is a Harley-Davidson gas tank?
Harley-Davidson gas tanks are in the range of 2.1 gallons and 6.0 gallons. The Harley-Davidson Forty Eight comes with a 2.1 gallons engine, while the Harley-Davidson Road Glide Special features a 6.0 gallons gas tank.
How many miles per gallon can a Harley-Davidson Road Glide give?
A Harley-Davidson Road Glide can deliver 45 miles per gallon.