Are you in the market for a lightweight Harley-Davidson bike, but aren't sure which one is the lightest? If so, then you're just at the right place 
The lightest Harley-Davidson bike is the Harley-Davidson Street 500, and it weighs around 455lbs. It's an incredibly lightweight bike, and it's perfect for women and beginner riders who are looking to start out with something light. With enough experience, you'll be able to climb up the ladder and go for the heavier models.
In this article, you'll get to know all about lightweight Harley-Davidson bikes, what is the lightest Harley-Davidson bike, how much Harley-Davidson bikes weigh, do motorcycle accessories impact the weight of your Harley-Davidson bike, and more. Continue reading to know all the answers that you're looking for.
What is the lightest Harley-Davidson bike?
Before finding out the answer to what is the lightest Harley-Davidson bike, it's important to understand motorcycle weight and how it correlates to the biker's size. Smaller bikers need lighter bikes designed to be easy to handle, especially if you're a beginner. Some models can be altered, which makes them more appealing to female riders and petite riders in particular. 
Experience plays a key role in climbing up the weight ladder as well. There's no reason why smaller riders cannot handle larger bikes eventually. However, it takes some time, skills, and many miles before you can graduate to a larger bike.
Skill level aside, there are many lightweight Harley-Davidson bikes that are perfect for beginners, small bikers, and women. Some of the lightest offerings by Harley-Davidson and their respective weights include –
Harley-Davidson Street 500 and 750 (455lbs)
Harley-Davidson Sportster 883 Superlow (536lbs)
Harley-Davidson 1200 Custom (554lbs)
Harley-Davidson Softail Low Rider (633lbs)
Harley-Davidson Softail Deluxe (693lbs)
You must know how to read the weight numbers that are quoted for a given motorcycle. They generally list the weight as "dry weight", which means the weight of the bike without including gas or equipment. It's important if your primary interest is cruising, touring, or long-distance riding. If that's the case, you'll need to factor in whatever gear you're adding and then weigh it against your needs.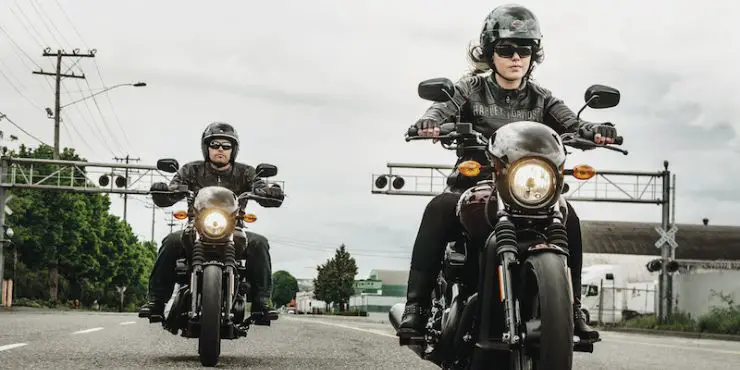 How much do Harley-Davidson bikes weigh usually?
The average weight of a Harley-Davidson motorcycle is around 700lbs, but that number is only a rough estimate. There are models that weigh as little as 450lbs while there are some that weigh more than 1000lbs. It's more about the ability to match the weight of the motorcycle to its design. Street bikes and sport bikes define the low-end of the weight scale at around 400-500lbs. Keeping the weight down gives these bikes the maneuverability needed for performing.
At around 450-800lbs or more, Harley-Davidson bikes have a reputation to be among the heaviest bikes on the market. There are three primary reasons for the weight of a Harley-Davidson being on the higher end of the scale –
A rather large engine size
Emphasis on designing touring and cruising bikes
Heavy weight of the high-quality components 
As a result, Harley-Davidson bikes land in the upper end of the breakdown of weight classes. Harley-Davidson bikes have attained notoriety for designing real beasts that weigh close to or higher than 1,000lbs.
Harley-Davidson bikes are high-power bikes and come with extra power and extra weight. Moreover, as most Harley-Davidson bikes are touring or cruising bikes, the extra weight doesn't hinder the riding experience. 
If you're after a bike that packs extra power and weight, there are some heavy bikes that you can go for.
Harley-Davidson Road Glide Special – 818lbs 
Harley-Davidson CVO Street Glide – 833lbs
Harley-Davidson Electra Glide Ultra-Classic – 868lbs
Harley-Davidson Ultra Limited – 877lbs
Harley-Davidson CVO Road Glide Ultra – 930lbs 
The weight of the engine dictates the bike's weight
When you start going beyond the basic classifications like street bikes, dirt bikes, etc. engine size features the strongest correlation to a bike's overall weight. The major measurement unit you'll need to know about is cubic centimeters (cc.). It is used to refer to the volume of cylinders in the engine. Generally, the larger the cc number, the heavier will be the bike.
Engine size usually ranges between 250cc and 1300cc. At the low end of the spectrum, a bike having a 250cc engine usually weighs in at around 350-400lbs. Meanwhile, a 1300c engine is typically used for powering a Harley-Davidson bike that is over 600lbs. The Harley-Davidson Sportster 1200 features a 1200cc engine, while it has a dry weight of just shy of 500lbs.
Will Harley-Davidson accessories impact the weight and riding experience?
In the recent past, a common trend in motorcycle designs has been the rise in tech additions and ancillary equipment. Unless you're an old-school purist, and many Harley-Davidson aficionados are notorious for falling in this category, the days of bikes being exclusively bare-bone machines have long gone. Motorcycle companies have a ton of money adding quality equipment including traditional items like windscreens, saddlebags, larger and more comfortable seats, and more.
These added accessories add weight to your bike, so you should keep it in mind. It's acceptable to add weight if you know that most of the mileage will take place on the open highway. However, if you're a mixed-use rider, you'll have to keep the extra weight in mind.
Technology isn't as important when it comes to extra weight, but it still matters. Turning your Harley-Davidson into a two-wheeled entertainment center might be fun in theory. However, the weight from the speakers and other gadgets can make sneaky increments to the overall weight of your bike.
There are many ways you can reduce the weight of your Harley-Davidson bike and make it relatively lightweight. It's a tough decision that Harley-Davidson bikers have to make. However, cutting down weight will give you better fuel economy, more responsive steering, improved brake performance, and a smoother ride. It'll be worth considering if these are your priorities.
Which models are best for riders looking for lightweight bikes?
If you're a beginner, a woman biker, or a petite biker, there are some bikes considered better than others. Petite bikers and women generally have shorter leg lengths. This makes it comparatively harder for them to ride tall bikes, which means they prefer motorcycles with low seat height. 
Besides seat height, another key factor that makes a bike easy to ride is its weight. Women and petite drivers usually find large, heavy bikes rather difficult to handle. They prefer starting out with a lightweight bike with minimal weight. This is why lightweight Harley-Davidson bikes like the Street models are so popular among beginners and women bikers.
However, lightweight bikes are not the only choice. Large bikes like the Street Glide Classic are also popular among this crowd. What makes these bikes so easy to handle is their low profile. As these motorcycles are closer to the ground, they've got a lower center of gravity, and they're relatively easy to maneuver.
Unlike in the past, the brands today are increasingly considering the demands of bikers who want lightweight options. This usually means easy-to-grip handlebars, lower seat heights, and a lower center of gravity. 
With its customer base increasing, the brand has made particular efforts to make its bikes more lightweight. This is done by improving the design, the engine, and other components to decrease the weight. Models like the Harley-Davidson Street 500 and Harley-Davidson Street 750 are a part of the brand's efforts to make the brand more accessible for bikers looking for lightweight options. 
Important factors to consider before buying a Harley-Davidson bike
Here are some of the key factors that new Harley-Davidson customers should consider before they purchase a Harley-Davidson bike.
1. Price of the bike
Before purchasing a Harley-Davidson bike, you must know how much you can spend so that you don't overspend. Remember, you don't always have to break the bank when you're making your first purchase. It'll be better to get something that's cheaper to purchase and repair, especially if it'll be your first Harley-Davidson bike.
Many novices often end up "dropping" their first bike after the initial training sessions. How well would you be able to afford the costs to repair your bike if you end up dropping it after training?
Another financial consideration when purchasing a new Harley-Davidson bike is whether you're buying a new or used bike. A new motorcycle will come with a warranty and the assurance that you'll be getting a bike with no faults. Even though it might be the more expensive route, it'll save you from costly repairs and improvements in the future.
Used bikes could have hidden fruits that might not manifest until after you've already brought the bike home. Sometimes, pre-purchase inspections could miss glaring issues, and you might have to bear the costs for a problem you didn't cause.  If you're ready to commit time and efforts to inspect and examine the used bike, you might end up getting a great Harley-Davidson bike at a bargain.
2. Performance of the bike
Power output is yet another factor that greatly influences what Harley-Davidson model you end up purchasing. If you're a beginner, it's advised that you should go for Harley-Davison bikes with engines in the sub-600cc range. The reason here is that with limited riding skills, it can be difficult to handle heavier, powerful models.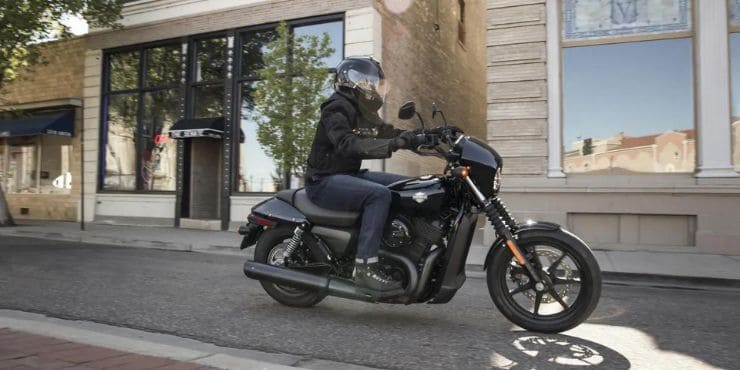 What you'll need at the initial stages is a Harley-Davidson bike capable of producing low to mid-range power and easy handling. It should give you the chance to build confidence in your driving skills while also preparing you to handle bigger, more powerful bikes. Once you've mastered the basics of riding a bike and feel confident, you can progress to a bigger, more powerful bike. These types generally offer greater power output and deliver an overall great riding experience.
3. Weight of the bike
After price and power, the next important factor would be the bike's weight. It's advised that you should purchase a lightweight bike as your first Harley-Davidson bike. Lightweight bikes are generally easier to balance and maneuver on the road. These bikes are less stressful to offload/unload, and they offer better fuel economy compared to their larger counterparts.
Bigger bikes are often considered difficult to control when riding. They even consume more fuel and are comparatively more expensive to insure, which sometimes creates a strain on a beginner. Besides, small mistakes made on larger bikes can snowball into bigger problems. It can cause much more damage than it would have done on a smaller, lightweight bike. For instance, take the example of dropping your bike and damaging it.
If you drop a small, lightweight model like the Harley-Davidson Street 500, you might escape with a few scratches on your motorcycle. If you drop a bigger bike like a Road King, then both you and your bike will face significant damage. Bigger motorcycles do have their own advantages as well. They offer more storage and fuel-holding capacity. Go for a Harley-Davidson bike that is lightweight, as it'll be easy for you to handle and learn.
4. Comfort and ergonomics
When choosing your first Harley-Davidson bike, it'll be important that you choose one that offers ample riding comfort. You wouldn't want to feel any pain in your arms, neck, and back after a long drive, would you? There are certain things that you should check to determine the level of comfort the bike offers.
The seat height is generally a great place to start. If the bike's seat length is too high, you might find it hard to sit comfortably, especially if you're of average or petite stature. The case will be the same if your bike has a low seat height, and you're very tall. It's pertinent that you go for a bike whose seat height matches perfectly your leg length. This way, you'll be able to decrease discomfort and fatigue when riding the bike.
The height of the handlebar will be another important part of your motorcycle's ergonomics. It'll affect your posture, which ultimately affects the level of comfort you're experiencing when riding. They should be designed in a way that you don't need to lean too far for gripping the bike. It will help you in maintaining an upright stance, which allows you to be comfortable and alert as you're driving.
Conclusion
Thank you for reading. Hopefully, now you know a lot more about lightweight Harley-Davidson bikes, what is the lightest Harley-Davidson bike, how much Harley-Davidson bikes weigh, do motorcycle accessories impact the weight of your Harley-Davidson bike, and more. If you're looking for the lightest Harley-Davidson bike on the market, then you'll find it to be the Harley-Davidson Street 500. It weighs around 455lbs and is an incredibly lightweight bike. It is perfect for beginner riders who are looking to start out with something light. With enough practice and experience, you'll be able to climb up the ladder and go for the heavier models.