Are you exploring the market for a new Harley-Davidson Street Glide but don't know how long it is exactly? If so, then don't worry because you'll get to know about it here.
Harley Street Glide has dimensions of 2425 mm / 242.5 cm / 95.47 inches in length. By knowing the length of the Harley-Davidson Street Glide, you'll better understand how much room it'll take when driving or when parking in your garage.
In this article, you'll get to know all about the Harley-Davidson Street Glide, how long is a Harley Street Glide, how reliable are Harley-Davidson Street Glide bikes, how much Street Glide maintenance costs, and tips to drive long bikes like a Street Glide. Stick around to know all the answers that you are looking for.
How long is a Harley Street Glide?
If you're looking to buy an intimidating bike like a Harley-Davidson Street Glide, it'll be wise to know its dimensions. It isn't just enough to know how long is a Harley Street Glide, you should also know its weight, wheelbase, and more. The length of a Harley-Davidson Street Glide is 2424 mm /242.5 mm / 95.47 inches / 7.96 feet. Meanwhile, the weight of the bike is around 829 lbs. As for the wheelbase, it is 1625 mm / 162.5 cm / 63.98 inches / 5.33 feet.
What Harley-Davidson Street Glide is all about?
Supersized cruiser bikes are perhaps the most intimidating of the bikes that Harley-Davidson has to offer. The Harley-Davidson Street Glide isn't just long and large, but it's pretty heavy as well, with a weight of 829lbs.
Sure, it can be a nerve-wracking experience the first time that you ride a Harley-Davidson Street Glide. However, this bike demands a fair amount of confidence and skills. Once you get the hang of the decisive and planned manner in which these bikes are ridden, all your painfully clenched muscles will start relaxing. This is when you will start recognizing and enjoying the true beauty of the experience this bike offers.
Gorgeous looks of this stylish beast
At first glance, you'll be mesmerized by the style of this bike. The imposing looks aside, it is an attractive-looking bike as well. Very few bikes can successfully pull off chrome, and the Street Glide wears it very well. The chrome is balanced very well and relegated to the bottom half of the bike, which allows you to take in the deep red paint scheme. A particular highlight of the bike is the dinner plate-sized headlamp that's aptly named Daymaker. It comes with huge LED elements, which make a day of night, which is great even for highway rides at night. There's a Box 4.3 Infotainment system that offers hands-free Bluetooth functionality. It allows the rider to easily access their calls, tunes, and navigation information.
The powerful engine and performance
The Harley-Davidson Street Glide has got the 107 version of Harley-Davidson's Milwaukee-Eight V-twin. It's essentially an air-cooled V-twin engine having a displacement of, 1753cc. The 107 version Milwaukee-Eight V-twin engine is mated to a six-speed manual transmission and capable of 111 lb-ft of torque. 
The engine is capable of producing 93HP at 5,020 RPM and 111 lb-ft of torque at around 3,250 RPM. The bike makes use of a six-speed Cruise Drive transmission with assist and slip clutch. Moreover, there's also a 49 mm Dual Bending Valve fork and a lowered adjustable rear suspension. The Reflex Linked Brembo braking kit will haul the 829lbs machine to a stop and a Boom.
With that said, the brakes do a tremendous job of shedding speed. It isn't the performance though that'll get you rocking. It's actually the sensation of having a huge motor ahead of you that makes you feel alive. Harley-Davidson has done a tremendous job of eliminating the shakes from the Milwaukee-Eight motor. Thankfully, the company has still retained some good vibrations. It sounds remarkable as well. At slow speeds, the exhaust will emit an understated baritone, which will turn into a sweet characteristic V-twin roar at high revs.
After dark will be the best time to ride the Harley-Davidson Street Glide. During the day, in traffic, the large V-twin engine could make its displeasure felt with low-speed throttle snatch. It's an understandable trait, as the fuel injection needs to intermittently feed two lumps at low speeds. Driving this long bike in crawling traffic can feel like trying to tame a Bronco.
The bike turns well, surprisingly well for its size. It's the sheer weight and low center of gravity that helps the Harley-Davidson Street Glide defy the laws of physics. Around corners, the tires don't just grip the tarmac, but they punch down with a lot of force. The cornering clearance is surprisingly good well.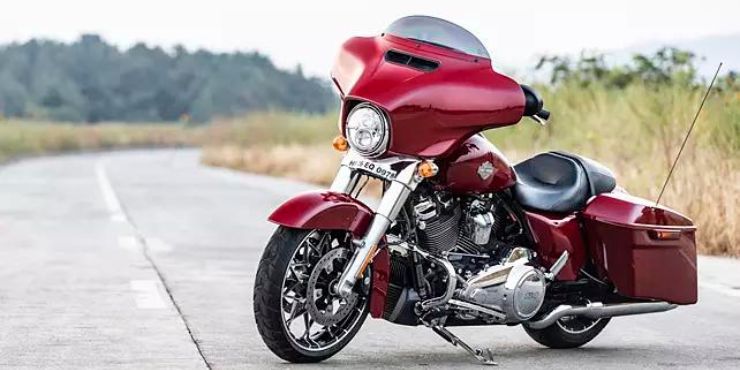 The low-seat height, floorboards, and upright riding position make the Street Glide a tremendous long bike. Meanwhile, the integrated hard luggage makes it easy to pack for a weekend away. The wide range of accessory add-ons means riders can customize the Street Glide for better wind protection, more passenger comfort, and sophisticated performance characteristics. One of the packages that riders often select is the RDRS Safety Enhancements suite. It uses the information from brake, chassis, and engine control systems for improving stability in a variety of riding scenarios.
With the Street Glide, Harley-Davidson has gone for the Bagger look, an incredibly popular custom bike culture in America. The Bagger scene is a particularly wild one, with custom motorcycle builders creating one-off specials that cost over 50,000 USD. These bikes can feature custom paint jobs, panniers, swooping streamlined bodywork, 26-inch front wheel, trick air suspension, and massive speakers. This one is definitely a sight to behold. This is essentially the premise of the Street Glide. It offers car-like control and premium features. One of the examples is the seat. It's one of the most comfortable ones out there, and you can spend hours riding this one. It has also got hill-hold control and a tire pressure monitoring system. Moreover, you also get a proper dashboard having a wide array of dials and mirrors in the framing.
It's a premium bike and buying it will be a huge statement. Riding this bike will be like signaling your arrival with large neon signs. The Street Glide isn't the best Harley-Davidson bike if you're looking to ride on a daily basis. The large V-twin detests crawling in traffic and after prolonged riding, the heavy clutch may leave your forearm sore. Although, the Street Glide definitely justifies being special when driving on an open highway. However, it'll be a truly special experience if you cruise into the night at triple-digit speeds, blaring your favorite songs.
How reliable is a Harley-Davidson Street Glide?
Harley-Davidson Street Glide bikes are reliable machines as long as they're taken care of and properly maintained. Many Street Glides become unreliable by poor custom jobs, either by non-Harley certified mechanics or owners using poor aftermarket parts. Doing some digging on Harley-Davidson forums, you'll find no shortage of love and praise for Street Glide bikes. There are many owners who have radically tuned these motorcycles in the right way and get remarkable services and reliability out of them.
You will still be able to find Street Glide models from 2006 on the road. This is truly a testament to their durability and reliable performance. Interestingly, there are reports from bikers who claim they've gone past 60,000-70,000 miles without any issues and still performing well. There isn't a massive amount of statistical data that talks about specific models and their reliability. 
It's something rooted in the history of Harley-Davidson when its bikes first came out. The bikers had to carry out their own maintenance, which lead to more breakdowns.  It has been reported that 70% of Harley-Davidson's built since the company launched in 1903 is still on the road today. That number is pretty impressive when you consider the sheer number of bikes the brand has sold over the decades. 
Since its debut in 2006, the Harley-Davidson Street Glide has been one of the most popular bikes from Harley-Davidson. It means that a huge chunk of bikes from the 2 million bikes sold in the last 8 years are Street Glides. Reliability is also dependent on how you care for your bike, including maintenance, storage, riding style, and more.
The Harley-Davidson Street Glide brake pads can be expected to last almost 10,000-20,000 miles on average. However, they can vary a lot depending on your riding style. Poor road conditions and aggressive riding habits could significantly shorten the lifespan of your Street Glide's brake pads. The pads must be inspected once every 2,500 miles to ensure that they're in a safe and good working condition.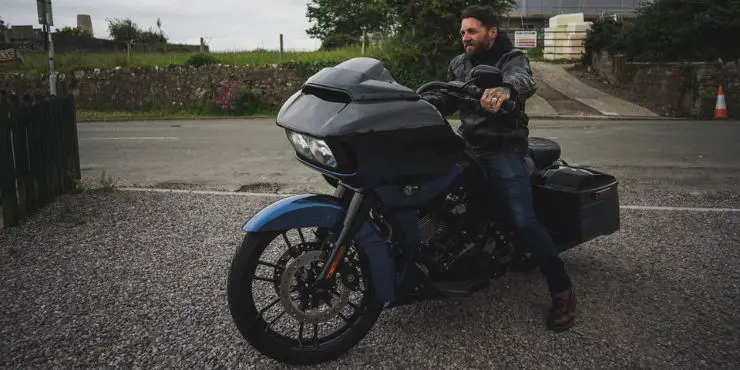 A rear Harley-Davidson Street Glide tire can last around 9,000 to 10,000 miles if ridden with care and responsibility. Meanwhile, the front tire can last between 15,000 and 20,000 miles with ease. However, no Street Glide tire must be ridden after 5 years, regardless of the bike's mileage. Tire longevity greatly varies and depends on your riding style and the climate.
You must regularly check the tire pressure as under-inflated tires could be detrimental due to –
Poor braking performance 
Poor fuel economy 
Decreased handling and riding precision
How much does it cost to maintain a Harley-Davison Street Glide?
The overall maintenance cost of a Harley-Davidson Street Glide is relatively average, and it can be compared to other models. Harley-Davidson suggests servicing your bike every 5,000 miles. The average price per servicing is around $400, which gives an average maintenance cost of a Street Glide at $1600 per year. 
The routine maintenance cost of a Harley-Davidson Street Glide includes –
Oil and filter change for $100 to $160
Brake and pad replacement for $200 to $300
Tire replacement $200 to $500
Clutch replacement for $300 to $500
There are other ownership costs that you should factor in besides maintenance like –
Gloves for $100
Jacket for $200
Rain gear for $75 to $300
Winter riding gear for $200 to $500
Tires for $300 to $500
Helmets for $100 to $500
Fuel for $15 per tank 
Insurance, with the average cost of bike insurance being $721
Important tips to ensure your new Harley-Davidson Street Glide lasts long
Regular and proper cleaning, maintenance, and storage are important to keep your Harley-Davidson Street Glide alive for much more than 50,000 miles. It'll also be the key to having a safe, fun, and smooth ride. Here are some of the tips to make sure that your Harley-Davidson Street Glide has a healthy and long life –
1. Keep your bike clean by using Harley-approved cleaning products
Keeping your Harley-Davidson Street Glide clear of any dirt and grime is essential to extend its life span. However, avoid using any corrosive cleaning chemicals, as they can erode and corrode components. Be sure that you are using products created to be used on a Harley-Davidson motorcycle.
Some of the products that can be used for cleaning your Street Glide are –
Wheel and tire cleaner
Sunwash
Polish
Bug remover
Clearcoat
Sealant 
2. Ride your Harley-Davidson Street Glide properly and regularly
A Harley-Davidson Street Glide that has been sitting unused for a while is full of old fluids. Once these fluids get expired, they could start causing corrosion to the lines. You should ride your Street Glide regularly, and you should do it responsibly as well.
Avoid starting your bike at below-freezing temperatures 
Avoid redlining your bike
You shouldn't idle your Street Glide for long periods of time in sweltering weather
Avoids stunt-riding your Street Glide 
3. Follow the company's suggested schedule for regular service maintenance
Your Harley-Davidson Street Glide must be serviced according to the owner's manual schedule. It needs to be once every 5,000 miles or so and before you store it for long periods. A typical servicing consists of –
Oil and filter change
Inspecting tire pressure and treat
Replace and clean the air filter 
Inspect and replace old batteries 
Refill fluids
Check lines and brake pads
Grease chains
4. Store your Harley-Davidson Street Glide properly
Your Street Glide should be kept away from any UV rays, rain, dirt, and moisture when it isn't being used. A decent quality tarp will be fine, but storing it indoors will be preferable. Make sure that you aren't storing your coveted Street Glide in the proximity of any corrosive chemicals. Airborne chemicals can easily end up causing corrosion.
Conclusion
Thank you for reading. Hopefully, now you know a lot more about the Harley-Davidson Street Glide, how long is a Harley Street Glide, how reliable are Harley-Davidson Street Glide bikes, how much Street Glide maintenance costs, and tips to drive long bikes like a Street Glide. The Harley-Davidson Street Glide is a pretty long bike, and it has length dimensions of 2425 mm / 242.5 cm / 95.47 inches. It's important to know the length of the Harley-Davidson Street Glide, as now you can better understand how much room it'll take when driving or when parking in your garage. Remember, these bikes require special care and maintenance if you want to ride them for years to come.