Did you buy a Harley-Davidson bike, and now you're in the market for a Harley-Davidson helmet? When hunting for helmets, it is likely that you must be thinking, who makes Harley-Davidson helmets? 
Harley-Davidson helmets are made by HJC and KBC in facilities in South Korea, Malaysia, Vietnam, and China. The company also has branches in the USA, France, and Germany. 
In this article, you will get to know all about Harley-Davidson helmets, who makes Harley-Davidson helmets, the best helmet options, and how good are these helmets. Continue reading to know more.
Who makes Harley-Davidson helmets?
If you're looking to find out who makes Harley-Davidson helmets, then the answer is HJC and KBC. HJC Corp. is widely regarded as one of the world's largest helmet manufacturing brands. Meanwhile, KBC helmets are very popular for use on the street and off-road. These helmets are manufactured by HJC and KBC in Korea and Malaysia, while they also have manufacturing facilities in China and Vietnam among other places. The factories serve as production facilities for premium quality products sold to customers around the world.
HJC and KBC are popular for producing helmets for many brands, including Harley-Davidson. HJC Corporation was established back in 1971. Hong Jin-Crown Corp is the owner of the HJC Helmet trademark. The headquarters of the company is in South Korea. HJC makes high-quality helmets for Vietnam and South Korea. HJC has major factories in Vietnam and South Korea while also having branches in France, Germany, and the USA. It is one of the major helmet manufacturing brands in the world. It has captured a 15% share of the global helmet market. HJC makes helmets with extreme comfort, vibrant and colorful patterns, and superior quality at reasonable prices.
Another major manufacturer of Harley-Davidson helmets is KBC. The company began its journey in 1992 and has proven to be a big hit since. KBC offers amazing quality as well as stunning designs and aesthetics. KBC has quickly become a leading name in the helmet market, and it's rapidly growing in the United States. The headquarters of the company is in Los Angeles, while the design and development center is in the UK. Alongside Harley-Davidson, KBC also has clients like Kawasaki, Polaris, Thor, Fox Racing, Suzuki, Yamaha, O'Neal, and Answer Racing.
How good are Harley-Davidson helmets?
Harley-Davidson is an iconic American motorcycle manufacturer with a huge reputation among riders. The company doesn't just make motorcycles, but it also sells a wide variety of items. Some of those items include bags, T-shirts, luggage, jewelry, clothing, home decor, and helmets. Harley-Davidson helmets use protective garments and offer protection in all weather conditions, including heat, cold, wind, and rain. These helmets are of exceptional quality and will keep you safe whether you're driving on-road or off-road. Harley-Davidson helmets are approved by numerous reputed rating agencies like the US Dept. of Transportation (DOT) and Snell Memorial Foundation.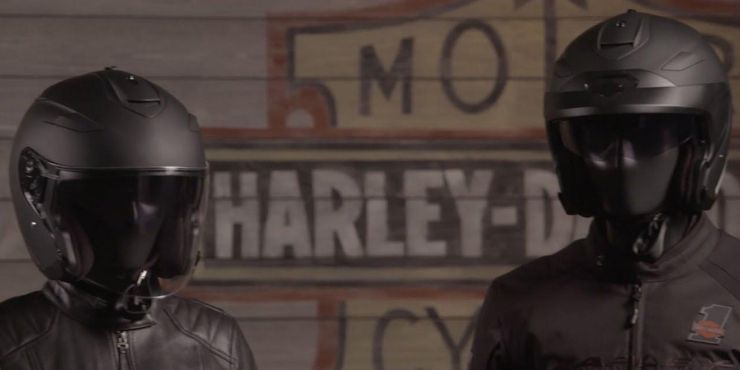 The rich history of Harley-Davidson and its accessories
Harley-Davidson has been an iconic American motorcycle brand for over a century. Arthur Davidson and William S. Harley joined their machinery knowledge and designs skills as they worked in a 10 x 15 ft. woodshed to come up with their first racing bicycle. The brand began its journey in Wisconsin and the legendary motorcycles with the revolutionary engines captivated the users. The early models were mostly bicycles that were augmented by innovative motors. With time, the engines evolved into powerful motors and the bikes were beefier and quicker. With such speed and power, there was a need for safety measures.
In 1912, the 6-story company headquarters and factory were built in Milwaukee. The same year, the Parts and Accessories Department got established and eventually, Harley-Davidson started selling more than just motorcycles. The brand also started selling helmets, T-shirts, and an entire line of branded merchandise. The brand even developed new models and sidecars as their popularity increased around the world.
Today, Harley-Davidson has established a massive market for motorcycles and motorcycle accessories. Many Harley-Davidson riders take pride in riding a Harley-Davidson and using accessories like Harley-Davidson helmets, jackets, and more. Most of these helmets are manufactured by HJC and KBC and carry tags that they're made in Malaysia, China, or Korea. Some riders even claim to use AVG, an Italian company as their preferred helmets. Some of the most popular Harley-Davidson helmets manufactured for Harley-Davidson riders are a part of the FXRG collection. This collection comes with the motto "Never Compromise". This collection will offer reliable safety, providing protection regardless of the weather and time of day. 
Best Harley-Davidson helmets in the market
A Harley-Davidson motorcycle helmet can make a major difference in terms of safety and injuries. Some people often feel skeptical about the degree to which a helmet can help them in case of an impact. It can be the difference between a scratch and a fatal injury. Harley-Davidson motorcycles travel very quickly. They're so quick and travel so fast that any head injury could leave you with a fatal injury. Having a strong helmet will greatly reduce the probability of having a head injury. 
Here are some of the best Harley-Davidson helmets that you can find on the market. Some of the helmets will offer a stylish way of protection while also keeping you safe from injuries. These stunning helmets aren't just protective gear, but also a part of the outfit and the Harley-Davidson riding culture.
This is arguably one of the best helmets for Harley-Davidson bikes. Moreover, if the rear comfort sleeve and face mask are removed, it can be used as a half helmet as well. The helmet will offer a retractable sun shield with UV Protection of 95% while also having anti-scratch and anti-fog coatings.
The helmet will come fully compatible with the BOOM Audio 20S Bluetooth, which allows you to be connected at all times. It'll combine comfort, style, and modern graphics. The helmet can be coordinated with a wide range of clothing and outfits.
Harley-Davidson claims that this is definitely one of their most innovative helmets. The helmet is a great buy thanks to its ability to convert from a full-face helmet to an open face. This is the first of its kind from the brand. The helmet is constructed using injected thermoplastic resin with an interior visor treatment for anti-fog. Meanwhile, there is also exterior treatment against scratches.
The sun visor will come with its own system, giving it a quick release capacity. The visor and chin bar will open quickly. Moreover, it'll also offer amazing aerodynamics regardless of whether you're wearing it in a full-face or open-face position. It has been optimized for sound-proofing. The sun shield will be integrated. The interior padding will be washable and constructed using high-quality fabrics. 
The helmets will meet the DOT and ECE22-5 requirements. Weighing just 3 pounds and 12 ounces, these helmets will be available in sizes XS, S, M, L, and XL.
This Harley-Davidson helmet comes with a sun shield that isn't just retractable, but also deploys with merely a touch. It will come tinted and integrated with the helmet. Moreover, the shield is anti-scratch and comes with an insert, which will be resistant to fog. The helmet interior is completely washable and it'll wick moisture, will be odor-free, lightweight, and antibacterial. The helmet is manufactured by HJC and meets the DOT safety standards. It weighs just 3.55 pounds and will come with a 12-month limited manufacturer warranty.
Of all the people who purchased this helmet, 94% of the users say that they'll recommend it. The helmet sizes will be available in sizes corresponding to hat sizes of 6 and 3/8" up to 8 and 7.8".
Being a part of the Harley-Davidson Pink Label Collection, the Pink Label Ultra-Light J02 Half Helmet for Women is an exceptional option. This half helmet will feature a gloss back exterior. It will have flakes of pink glitter that'll be incorporated into a fiberglass shell with Spectra fiber. The Spectra fiber will ensure that it has maximum strength coupled with minimum weight.
The interior comes with a dial adjustment such that every user can use the mechanism for achieving a comfortable fit. The liner will be washable, removable, wick moisture, and antibacterial. Meanwhile, the chin strap will be double D-ring style and the visor will be removable. The helmet will have speaker pockets that can zip off and be compatible with P&A headsets for helmets. 
The helmet will be manufactured by J-Tech and will comply with the DOT safety standards. Moreover, the custom graphics will also include the Pink Label ear flap medallion. The helmet is extremely light as it weighs just 1 pound and 12 ounces. The helmet will be available in regular sizes like 2XS, S, M, L, XL, and 2XL. However, certain sizes will only be available in stores rather than online.
The Capstone SunShield Modular Helmet for Men is manufactured using a polycarbonate composite shell. It'll feature a ventilation system, channeling the airflow from the front to the back, reducing heat and humidity. It will also feature an easily deployed tinted sun shield, which will be integrated into the design. The face shield will offer UV protection at a high 95% level and will come with a shield replacement QuickSlide system. This will ensure that no tools are needed for installing or removing shields. The interior will be lined with a removable, washable, anti-bacterial fabric that wicks moisture. The helmet will come with custom graphics and its own bag.
Manufactured by HJC, the helmet will weigh around 3 pounds and 13 ounces and have a 12-month limited warranty. It will come in sizes XS, S, M, L, XL, 2XL, 3XL, 4XL, and 5XL.
Conclusion
Thank you for reading. Hopefully, you now know a lot more about Harley-Davidson helmets, who makes Harley-Davidson helmets, and more. Harley-Davidson helmets are largely manufactured by the HJC and KBC brands. HJC Corp is regarded as the biggest helmet manufacturing brand in the world, whereas KBC helmets are incredibly popular and reliable for street and off-road use. The HJC helmets are manufactured in places like Malaysia, South Korea, China, and Vietnam. Meanwhile, the company also has offices in France, Germany, and the United States. KBC has headquarters in Los Angeles, while its design and development center is in the UK.