Are you a Harley-Davidson biker curious to learn about the concepts of Forward Controls on your bike? If yes, then this is certainly the right place for you to be.
Forward Controls on a Harley-Davidson bike refers to the process of making use of extended pedals and rods for replacing the standard equipment for shifting and braking that usually comes with most bikes. The idea here is to provide more comfort by changing the biker's posture. Without forward controls, the biker's normal posture will include bent knees, which is fine for trips around town, running errands, short trips, and more. These controls are commonly used in conjunction with highway bar extensions and the two amendments combined, which significantly increase rider comfort during long-distance travel.
In this article, you will get to learn all about forward controls, what are forward controls on a Harley-Davidson bike, the benefits of forward controls on Harley-Davidson bikes, and more. Stick around to get all the answers that you are looking for. 
Get Freedom with Forward Controls
There is nothing quite like the freedom of the open road that you'll be able to enjoy on the back of your motorcycle. The hum of the motor, the rush of the wind, and the wide-open panoramic view represent one of the grandest ways that you can travel on open roads and highways. 
A road trip on the back of your Harley can make traveling through even the most mundane stretch of highways into a thrilling adventure. It can be easy to see why Harley enthusiasts feel taking a road trip on their bike is the best way to travel.
However, there are certain challenges to long road trips on a bike. It can be slightly uncomfortable for some, while maintaining a proper riding posture over long rides could lead to fatigue. Fortunately, there are many devices that are designed for making travel more comfortable on bikes during long trips, and these amenities can make your daily trips more enjoyable too. One such amendment that many bikers have added to their motorcycles is a forward control kit. Forward controls for bikes use extended pedals and rods to offer a more relaxed posture. This will make long trips much more comfortable.
What are Forward Controls on a Harley-Davidson Bike?
On most bikes, the shifting and rear braking controls get manipulated by the biker's foot. These controls are located directly under the seat of the rider, which keeps the biker in an upright, vertically oriented position. For using the controls, the biker's knees must be bent. While this might be fine for traveling around the town, it can be slightly uncomfortable on longer trips. Forward controls make use of extensions that allow the original pedals and levers to be replaced to move the critical controls forward on the motorcycle. This allows the biker to extend their legs and still be able to reach the controls, which offers a more relaxed posture for the rider.
With most bikes, the forward controls will typically come installed using a kit, allowing them to be bolted onto the motorcycle. The new levers and pedals come bolted onto the footage mounts, with the chosen forward controls replacing the stock components.
If you are interested in forward controls, it won't take long for you to find the right option for your bike. The aftermarket for forward controls is pretty large and comprehensive. The worst-case scenario is that you might require a professional mechanic with extensive riding experience to assemble the necessary components for you.
Forward controls come as a part of a package that also includes highway bar extensions for many bikers. It is quite easy to recognize a motorcycle that has had forward motor controls installed, and the comfort offered by this package, which helps make your bike safer.
Many accidents end up occurring because of fatigue and rider discomfort. While forward controls have a certain ornamental value on certain styles of motorcycles, they play an important role in safety. The ergonomics of forward controls are important to consider. For tall riders riding small bikes, using forward controls will be essential for comfort and safety. 
The installation of forward controls will involve the removal of the stock brake pedal and gear shifter, and then replacing these components with new components that can extend further forward. The conversion to forward controls for a bike is a simple, straightforward process for many bikers, even though some might opt for professional installation.
How Do Forward Controls Work
In simple words, forward controls refer to the process of using rods and extended pedals to replace the standard equipment for braking and shifting that comes with most bikes. The idea here is to provide improved comfort by changing the biker's posture. Without forward control, your normal posture will include bent knees, which is only good for running errands, short trips, and riding around town.
However, longer trips can be another matter. Riding in this position for hours can be very uncomfortable and painful, especially for older bikers or someone with knee injuries. Forward controls are truly a game-changer for these people. These controls have basically replaced the original pedals and lever, and shifted them forward, allowing the drivers to extend their legs while still being able to reach the controls.
For Harley bikers, forward controls come as part of a standard Forward Controls Kit. Once Harley-Davidson realized the number of bikers who were intent on using aftermarket kits for installing forward motor controls on their motorcycles, the brand took the bull by the horns and took an aggressive approach to offer forward motor controls on many of their bikes. 
Most Harley-Davidson bikes have what is known as mid-control. This means that the pedals and levers are positioned in the middle position. Model-wise, most Harley-Davidson Cruisers come with forward controls, which makes sense that these motorcycles are generally used for touring. Meanwhile, Street bikes and Sportbikes also come with controls and rear sets, as these and middle controls will allow for a more aggressive riding position.
Another advantage of forward controls on a Harley-Davidson bike is that they'll allow bikers to get their feet on the ground quickly when they are in stop-start traffic. Forward controls help in improving visibility, and they offer better control for slow-speed turns by allowing you to have a more upright posture.
Further, you will be able to take a mix-and-match approach when it comes to forward and mid-controls. Some bikers do this for improved safety and control, but sometimes, style decisions are involved as well. They are related to both riding posture and the appearance of the motorcycle, so there are multiple factors that have different levels of importance for riders.
The mid-controls on a Harley-Davidson bike can include racing-style pivot foot pegs alongside a mega knurl, allowing the bikers to lean toward the road while also allowing bikers to maintain an ideal level of visibility. They will help in preventing accidents when unexpected braking is needed, hence increasing the confidence of riders too.
While an aftermarket kit could seem like the most obvious solution if you are looking for forward controls, there are many reasons you can resort to Harley-Davidson for a solution. 
For starters, the forward controls by Harley-Davidson come designed to match the factory style of your motorcycle. They are made of laser-cut steel and, depending on the individual ride, they are generally powder-coated in satin black. The length of the controls can be individually adjusted by Harley-Davidson mechanics and as these kits are custom-made, the rear brakes will typically not have to be bled.
The versatility is impressive too. Street Bobs come with forward controls pre-installed, often with an L-shaped brake pedal instead of the standard T-shaped pedals. 
If you are one of those bikers who prefer mixing and matching, you'll have the option to switch back and forth between forward controls and mid-controls depending on the type of bike you're riding. This might involve a bit of periodic adjustments that take extra time or the occasional trip to the dealership. Still, the available flexibility will be invaluable if you ride regularly.
Benefits of Forward Controls on Harley-Davidson Bikes
As mentioned above, forward controls on Harley-Davidson bikes are designed primarily to provide the biker with a much more comfortable ride by adjusting the posture. Further, it also allows the extension of legs without losing the ability to brake and shift. Forward controls are commonly used in conjunction with highway bar extensions, and the two amendments combined significantly increase rider comfort levels during long-distance travel. Using forward controls has safety benefits as well. For instance, as they prevent stiffness and rider fatigue, allowing the rider to remain alert and physically capable of responding to roadway hazards. They can even be used for adjusting the ergonomics of your bike if necessary, as is the case of tall riders using small bikes. Here are some of the primary benefits of forward controls on Harley-Davidson bikes – 
1. Greater comfort
Originally, motorcycle controls used to be placed under the hips of the biker, near the foot pegs. The reason for this placement was such that riders were able to quickly put their feet down during stop-start traffic, to provide more leverage for turning at slower speeds, and to allow you to have a more upright position for visibility.
However, these concerns aren't quite as important on long highway rides where there will be longer uninterrupted rides, fewer traffic signals, less dense traffic, and greater speeds. To that end, forward controls will allow for your feet to be moved forward to create a more relaxed and reclined position, which is much more comfortable on long rides. The forward control position will allow you to drive with less bend at the knee, allowing you more room to stretch your legs while traveling. This will reduce stiffness on longer trips while also making for a more pleasant, comfortable experience.
2. Improved aesthetics 
For many Harley enthusiasts, the look of the motorcycle and rider when forward controls have been installed is much more aesthetically pleasing. They make the biker look more laid back, which gives the motorcycle a better and faster appearance. The old-school styling resulting from the installation of forward controls will be more appealing to many bikers in the motorcycle cruising community.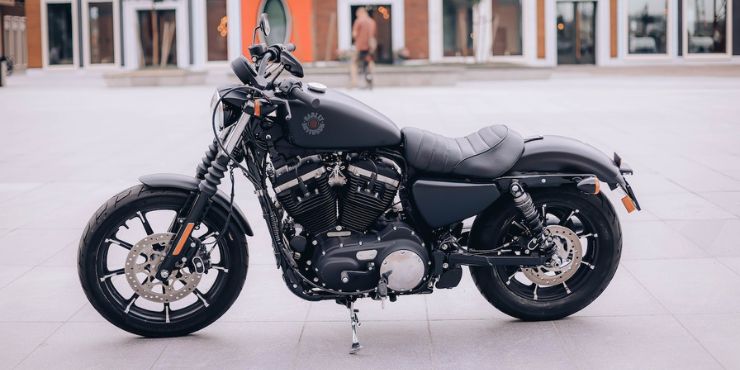 3. Enhanced value
If you ever decide on putting your bike on the market, the presence of forward controls will help you get more money for your motorcycle. Forward controls are among some of the most desirable aftermarket accessories available for motorcycles. So if your Harley-Davidson bike already comes installed with forward controls, this makes it all the more coveted. In that regard, forward controls will not only help you get more money for your motorcycle, but they'll also help you sell it more quickly.
4. Easy installation 
While some Harley-Davidson bike owners prefer professional mechanics install their accessories, the installation of forward controls on a Harley is so simple that many riders can do it themselves. You can also buy your own aftermarket parts from the vendor of your choice and then install them on your bike with some basic tools, a couple of hours of time, and basic knowledge. By doing this yourself, you can magnify the value of your forward controls upgrade while saving money on installation.
Depending on your Harley-Davidson bike model and the kit used, adding forward controls to your bike can be a simple task. The best forward controls come in the form of bolt-on kits that can be installed on bikes easily. The extended levers and pedals can easily be bolted onto the original footpeg mounts, whereas stock components can be replaced by the forward controls. If you cannot find a kit for your make and model of bike, you might need the help of a mechanic to fabricate and install the forward controls on your bike.
FAQs
Is it helpful to install forward controls?
Forward controls are largely designed for providing the motorcyclist with a more comfortable ride by adjusting the posture and allowing you to adjust your posture and extend your legs without losing the ability to brake or shift.
At what speed should I shift my bike?
Determining when to shift your bike will vary depending on your bike, travel speed, and road conditions. While most bikes can be shifted at 5,000 to 7,000 RPMs, it would be best to judge by the feel and sound of the engine. As you're driving faster, its pitch will increase. Once the pitch is high, it will be time to shift.
Is it difficult to learn to ride a Harley-Davidson bike?
Anyone can easily learn to ride a bike, especially if they start by taking part in a motorcycle safety course. Harley-Davidson bikes aren't that difficult to ride, but you must familiarize yourself with the controls and riding techniques before starting out.
Which gear should I use in heavy traffic?
In heavy traffic, it'll be better to stick to a lower gear, as controlling a motorcycle on a higher gear could be cumbersome for many bikers. Lower gears will also brake quickly because of naturally occurring engine braking.
How do forward controls help in long-distance rides?
On long-distance rides, the factory placement of the brake pedal and gear shifter on your bike might not be the most comfortable experience. Traditionally, these all-important controls come positioned directly under the rider's seat near the foot pegs. While this is convenient for riding around town, you might want to change your position multiple times and maintain an upright position, the placement and resulting posture could be exhaustive on long highway drives.
To help deal with this situation, many manufacturers of aftermarket accessories offer motorcycle forward controls. This allows the bikers to hold a more comfortable posture for long-distance riding. The forward controls will allow the riders to assume a more comfortable, reclined position without sacrificing the control or agility of their bike.