Are you a Harley-Davidson enthusiast eager to learn about improving your bike, but you don't know what a Screaming Eagle is? If yes, then this is just the place for you to be.
A Harley-Davidson Screaming Eagle is an aftermarket upgrade package. It comes as a 4-valve per cylinder and will be available as a standard 107 engine, a twin-cooled 107 engine, or a twin-cooled 114 engine. Although slightly nascent, the Screamin' Eagle was designed so that you can add more power, throttle, and torque to your Harley without compromising the reliability and the ride quality. Moreover, the Screamin' Eagle performance parts will not interfere with the warranty. Further, you could even upgrade your bike before it leaves the dealership, adding the Screamin' Eagle upgrade kit into the agreement.
In this article, you will get to learn all about what is Harley-Davidson Screaming Eagle, alternative ways to increase the power of your bike, and more. Stick around to get all the answers that you are looking for.
Get More Torque and Power with the Screamin' Eagle
If you ever said "no" to the prospect of more torque and horsepower, then you must not be riding a Harley-Davidson bike. Since the start, Harley-Davidson bikers have discovered freedom in the pull of exceptional and powerful performance. It is only natural that the addicting rush of adrenaline riders as the bikers crave more.
While there is definitely no shortage of aftermarket upgrade options, most of them will end up voiding the existing manufacturer's warranty, which may want you to sacrifice peace of mind for a bit extra oomph behind the throttle.
Thankfully, Harley-Davidson has a solid understanding of who their customers are and what they want, developing a rich lineup of Harley-Davidson Screamin' Eagle performance parts that won't interfere with your bike's factory powertrain warranty. In fact, you can also upgrade a new Harley before it leaves the dealership, adding the Screamin' Eagle upgrade kit to the existing agreement.
The best part of this all is the flawless compatibility between the parts and the engine itself. As both of them were developed together and by the same manufacturer, there won't be any hassle convincing the aftermarket parts to work in tandem with the engine. Ultimately, the only question left is how much more power do you want.
What is Harley-Davidson Screamin' Eagle
Harley-Davidson has been one of the top names in the motorcycle industry for many years. One of the primary reasons why the company has been able to attain longevity and sustain its time at the top is that the company adapts to the environment and ensures that the needs of its clientele are met. A quintessence of this is the amazing range of Harley-Davidson Screamin' Eagle parts that have been released for the bikes. The Harley-Davidson Screamin' Eagle comes with a 107 and a 114 cubic inch option. 
The Screamin' Eagle comes with a 4 valve per cylinder and is available in numerous options, such as a standard 107, a twin-cooled 107, or a twin-cooled 114. Although a bit nascent, the range has been designed to offer more power, throttle, and torque that you can add to your bike without compromising the reliability and ride quality.
Screamin' Eagle Stage One – Intake, Exhaust, and Tuning Upgrade
The first stage, Screamin' Eagle, is the foundation for the rest of the package. It'll come with high-performance air cleaners that are coupled with slip-on mufflers, both of which will allow for more airflow into the engine. As simple as this might sound, letting more air into the engine will boost power production by up to 10%. This is something that the rider will be able to feel when it comes to the RPM range.
The Stage One kit will be ideal for bikers as they'll be able to change the performance of the bike while enhancing its look and sound. For Stage 1, you'll get a plethora of options to choose from. You will also get the screaming eight high-flow air cleaner, which is essentially a filter element that can be hidden behind the air cleaner cover and give your bike a subtler look. Further, it'll cost you just $175 for this one.
Another option that you can go for is the Screamin' Eagle Ventilator Air Cleaner, which will offer you and your motorcycle a tapered and low-profile design that also enhances your legroom. It will cost you $300. Alternatively, you can even get the Heavy Breather Performance Air Cleaner, which comes with a cast aluminum tube, and a low profile that can direct air into the throttle with as little turbulence as possible, hence, increasing the motorcycle's efficiency.
The Screamin' Eagle Street Cano Performance Slip-On Mufflers will enhance the airflow of the engine while also increasing power by reducing the back pressure that is exerted by the exhaust gas. Further, it'll also enhance the effects of inertia and wave scavenging. To buy this, you will need to pay around $500.
Screamin' Eagle Stage Two – All of Stage One + Performance Camshaft
The Stage Two kit will take the Harley-Davidson Milwaukee-Eight engine equipped with Stage One's accessories to another level. It comes with a performance camshaft that will increase the airflow to the engine by lifting the cylinder head valve and holding them open. This makes it possible for the bike's engine to have a better intake and more efficient exhaust flow. 
This comes in two choices, making it possible for bikers to focus on the performance of the motorcycle based on the riding style. The Screamin' Eagle Milwaukee-Eight Stage Two, the Torque Kit, will deliver throttle responses on demand from low RPM to mid-RPM when at cruising speed. When installed in a Milwaukee-Eight 107, from 2,500 to 4,500 RPM, it can produce over 100 pound-feet of rear-wheel torque. It is the ideal powerband that makes moving past slow motorcycles a breeze, and you won't need to downshift and make compensation for the weight of the luggage and the passenger.
The components of this kit will include a cam cover gasket, pushrod covers, pushrods, and the Screamin' Eagle SE8-447 cam. It will cost you $389. The other option will be the Screamin' Eagle Milwaukee-Eight Stage II, the Power Kit. It will start piling on power when, at 3,000 RPM, you'll be able to produce over 90 Horsepower in the rear wheel for the 107 Harley engines. This is the perfect kit for bikers who want to bike aggressively while also having the capability to downshift to lower gears and keep the engines at a higher RPM range. The components of this kit will include the O-rings, adjustable pushrods, pushrod covers, a Screamin' Eagle SE8-462 cam, and a cam cover gasket.
Screamin' Eagle Stage Three – All of Stage One + Big Bore Pistons and Cylinders
For Stage Three, the recipe for performance is pretty easy, it increases the size of the engine and the power output for the RPM range. It will take a Milwaukee-Eight engine to 117 cubic inches while taking a 107 engine to 114 cubic inches. When you're on the Stage Three kit, you will feel the difference. Both of the kits in this stage come with bolt-on cylinders, which can be easily installed without dismantling the entire engine from the vehicle.
This will reduce the complexity of the installation while also reducing the amount of time needed to carry out the installation. The kit will include high-performance piston rings, forged 11:1 coated aluminum pistons, an SE8-498 camshaft, SE 4.075-inch cylinders, SE performance valve springs, SE high-performance tappets, and multi-layer coated head gaskets.
EMC calibration will be needed to ensure that the installation is done properly. The Stage III kit installed on a 107 engine will increase the engine's compression ratio to 11:1 while also boosting the mid-range torque by up to 24%. Further, it can also deliver up to 39% more power when compared to the original engine configuration.
Meanwhile, the Stage III kit for Milwaukee-Eight 114 engines can produce between 100 and 110 more rear-wing HP when you hit the 4,750 RPM mark. Moreover, it'll give over 100 pound-feet of rear-wheel torque once the RPM mark is reached between 2,750 and 5,750.
Screamin' Eagle Stage Four – All of Stage One + Cam + Big Bore Pistons and Cylinders + Cylinder Heads
Screamin' Eagle Milwaukee-Eight Engine Stave Four kit is the largest bolt-on engine upgrade available for Milwaukee-Eight engines. There are big-bore cylinders, ported heads, a monster throttle body, and a high-lift cam that combine to deliver stump-pulling torque throughout the RPM range and up to 52% more power compared to the stock Milwaukee-Eight engine.
This is a system-matched collection of components that is created by the same Harley-Davidson engineering team that has designed and developed the Milwaukee-Eight engine. Upgrading the engine with genuine Harley-Davidson parts will support the performance gain without having to sacrifice drivability, reliability, or warranty.
The 114CI to 131CI stage IV kit will include CNC Ported Cylinder Heads with Performance Valve Springs, High Flow Injectors, 64 mm Throttle Body, Cam Bearing Upgrade, 4.075" Bolt-on Cylinders, High-performance Tapers, 11:1 High Compression Aluminum Coated Pistons and Rings, Multi-layer Coated Head Gaskets, SE8-515 Cam, Cylinder Base and Cam Cover Gaskets, High-Capacity Clutch Springs, and more.
Alternative Ways To Add More Power To Your Harley-Davidson Bike
If you are looking to bring more power and throttle to your bike and don't want to spend the big bucks on a Screamin' Eagle, then don't worry, as there is no shortage of alternative methods. Here are some of the modifications that you can make that won't require a big budget or a mechanic-level skill set –
1. Increase the air intake
Your Harley-Davidson bike's stock intake plumbing is generally pretty strangled. Reducing the restriction will go a long way in helping with combustion. Even just a free-flowing filter will help, while increasing the surface area of the air intake will help increase overall volume as well. It is one of the cheapest and easiest methods to pump up more power.
However, you should be advised that some of the kits will remove the entire airbox and leave the filters exposed to external elements. You must choose wisely for your needs. Moreover, be vigilant that this modification alone may also mean increased consumption of fuel, so you will want to adjust the carburetor or tune the fuel injection accordingly.
Pipes are the most common bolt-on options as they add power, lessen weight, and look much better than the bland stocker.
2. Upgrade the exhaust
This modification will go hand in hand with the previous suggestion. As it has to adhere to changing emission requirements and keep the cost low, your bike's stock exhaust manifold's ability to move air efficiently gets compromised.
This makes aftermarket exhaust systems a great place to find extra HP and increases torque. You will probably gain performance immediately as aftermarket units are lighter but they will also expel exhaust gases efficiently, so the engine will breathe better as well.
Generally, a 2-into-1 pipe will net you the most usable power, especially in the lower half of the powerband where 90% of riders spend most of their time. Further, they are quieter as well. Exhaust swaps are arguably the single most popular bolt-on modification as they add power and torque, look much better, and give your bike a better sound.
Your basic EFI system could get overwhelmed by increased intake or exhaust mods so you should be sure that you realign fuel delivery with airflow, either via a re-flash or aftermarket tuner.
3. Install a new jet kit or tune your carburetor
If you are running a carbed bike, there are tweaks that you can carry out. Increasingly stringent emission laws mean that your Harley-Davidson motorcycle likely came from the manufacturing plant jetted on the lean side, in which a jet kit should be all that you require to put things right. As the name suggests, a jet kit will pack together a selection of jets (main and pilot), shims or springs, a new needle, and a set of installation instructions and jetting guidelines that cover a variety of scenarios. You can also find kits that are designed specially to work with specific manufacturers' pipe and airbox modifications.
You may not think to look here, but your bike's ignition system can be hiding some extra ponies as well. Furthermore, you should do your homework before you pull the trigger.
4. Modify the ignition
Ignition is often an area that gets overlooked, but you can get more horsepower depending on how good the ignition system is to begin with and how the engine is set up.
Modifying the ignition for a bigger control angle will give you a bit more kick, considering that this is the place that generates the needed energy to ignite the fuel and air in the engine cylinder.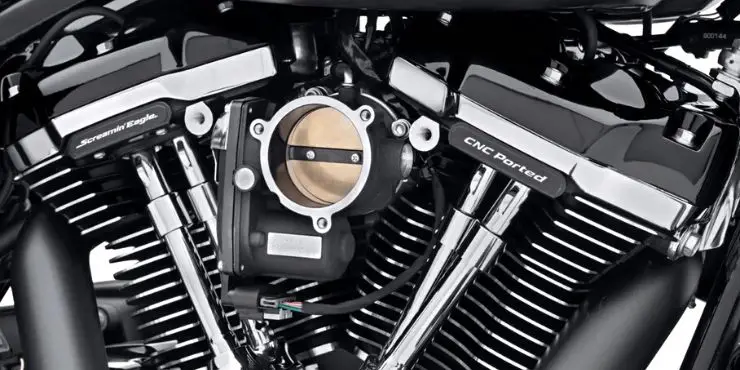 If you are only doing the pipes and airbox and the stock ignition is up to the job, then the only boost that you will get is the slightly stronger throttle response. On an older Harley or a so-so ignition engine, chances are good that you will gain a few extra ponies. Even new, upgraded plugs can potentially help. You should tread carefully, as aftermarket coils might not work with factory-installed ignition systems or wires. Remember to read the manufacturer's recommendations carefully so that you know the deal.
FAQs
What year did Harley-Davidson release the Screamin' Eagle?
The Screamin' Eagle was started in 1983 as an internal skunkworks, and it had a hand in the performance development of Harley-Davidson engines for Street and Track and for the VR1000 superbike in the 90s. Today, it assists with design and racing while also developing performance parts and accessories for motorcycles.
What CC is the Harley-Davidson engine with the highest CC?
The 131 cubic-inch 2147cc V-Twin engine available in both twin-cooled and oil-cooled options is a bolt-in replacement for Touring models (2017 and later) that were originally equipped with a Milwaukee-Eight Oil-Cooled and Milwaukee-Eight Twin-Cooled engines (Street Glide, Road Glide, Road King, Electra Glide, and Ultra Limited).
What is the most powerful Harley-Davidson bike?
You will be able to leave other bikers in the dust with a Screamin' Eagle 131 Performance Crate Engine, which is the biggest and most powerful street-compliant crate performance engine created by Harley-Davidson.
Which Harley-Davidson bike is most comfortable?
The Harley-Davidson Electra Glide is the ultimate option for riders and pillion comfort, making it one of the most comfortable and popular bikes.