Are you a Harley-Davidson enthusiast who has been recommended to buy a Softail but doesn't know what it is? If so, then you're definitely in the right place.
Harley-Davidson Softail is one of the best touring bikes offered by Harley-Davidson. It's a great entry-level offering and acts as the perfect entry point to the world of Harley-Davidson bikes. Extremely smooth and flexible, this bike features a powerful engine and delivers comfortable riding.
In this article, you'll get to know all about Harley-Davidson Softail, what is a Harley-Davidson Softail, and other details about the Harley-Davidson Softail. Stick around to know all the answers that you're looking for.
What is a Harley-Davidson Softail?
In February 2020, Harley-Davidson decided to reintroduce the Softail Standard after a gap of 13 years. The signature Harley-Davidson bike had previously been dropped in 2007. Aimed to be a starting point for the customization scene, the Softail is described as a raw, stripped-down style. It is essentially a blank canvas for great, impressive customization.
The Harley-Davidson Softail has become a great entry point to the world of Harley-Davidson while also being their cheapest bike. The Softail motorcycle does an impressive job of taking over the mantle of the first Harley-Davidson bike for beginners. The styling of the bike is pretty impressive, while it can deliver bags of style. The mid-mounted pegs and low seat will make it accessible for everyone. Meanwhile, the custom catalog and easy-to-swap nature mean that it'll only grow on you as you keep on riding.
Harley-Davidson Softail: Power and torque
The trouble with most bikers is that everyone looks at their bike's stats and plays with power and torque figures. Harleys always end up with surprisingly low-power outputs, especially when you consider the size of the engines. The Harley-Davidson Softail is no exception. Fitted with a 107 cubic-inch Milwaukee-Eight engine, it delivers, 1746cc and puts out a bit over 86bhp. While this might sound a bit low when compared to today's bikes, the low-power figure is actually a direct result of the low-revving engines. In fact, it's the immense torque figure that must be concentrated on.
Capable of pumping out an impressive 144Nm at around 3250 revs, the Softail definitely doesn't feel underpowered. Flexible and smooth, thanks to the Euro 5 compliant fuel-ignition, the engine can pull cleanly from tick-over and keeps pulling and pulling.
Harley-Davidson Softail: Engine
The Softail comes from the battery with a 107ci 8-valve Milwaukee-Eight engine, and it's a great choice that suits the bike well. Right off the bat, the motorcycle will feel strong without coming across as intimidating. If anything, the bike is quite forgiving, as the engine will be strong enough to cover the basic errors while easily pulling from a standstill in second gear.
If outright power is your primary aim, the blank canvas ethos will come into play. You'll be able to carry out numerous Harley-Davidson upgrades, taking your mid-mannered 107 up to flame splitting 128ci Screamin' Eagle IV beast that can put out up to 120bhp. You can up the torque to a neck-spanning 170Nm with a little over three grand add-ons.
The 6-speed gearbox will take a bit of practice to perform. If you're a lazy gear changer, the Softail could highlight your faults. You have to be very pronounced in your actions to get your box shifting smoothly and effortlessly. This is even more significant at lower speeds or higher loads, but once mastered, it'll perform very well. On smooth roads, the sixth gear will almost become superfluous, with A-road speeds that can be attained comfortably in the fifth.
The engine is quiet enough at idle to keep your neighbors happy, the chrome twin pipes come to life on the road. They can provide a baritone rumble for accompanying your ride without becoming tiresome. If you want to make more impact, there are many Harley-Davidson-approved and aftermarket pipes that you can choose from.
Harley-Davidson Softail: Comfort
Harley-Davidson describes the Softail as a Raw, stripped-down bobber-style bike. In reality, it means that you'll be getting a low seat, mini-ape bars, and mid-mounted footrests. When riding the bike, you can easily get multiple long rides in a wide variety of weather. The riding position means that you'll have an aerodynamic profile of an octopus clinging to a washing line. It isn't really a major issue, though, as the 13.2-liter fuel tank will have you hopping off once every 100 miles or so for a refuel and leg stretch.
The raw, stripped-down bobber style comes at a price, though. You will get soaked to the skin when it is pouring down. Rain will be pushed up to your sleeves and the sitting on the loo riding position leaves the hem of your jeans/leather gaping open, essentially inviting the weather inside. It might not be ideal, but it's a more than good enough motorcycle for riding through the worst of it. With the chrome and polished body, any wet weather riding means more cleaning and polishing.
Harley-Davidson Softail: Handling, suspension, and weight
There is simply no escaping the fact that a fully fuelled Harley-Davidson Softail can weigh a lot. Pushing the bike around, you'll feel every pound of it. On the road, the motorcycle carries its weight pretty well, and at A and B-road speeds, the handling will be deceptively light. The bumpy roads might overwhelm the shocks at times, which could result in an uncomfortable ride. Overall, on slower and smoother sweeping roads, the ride will be plush and smooth. 
Despite the lack of lean angle, you won't find yourself scrapping footpegs on roundabouts. With a 13.2 liter tank, it'll give you a realistic range of 130 miles, which considering the onboard comfort is more than good enough between breaks.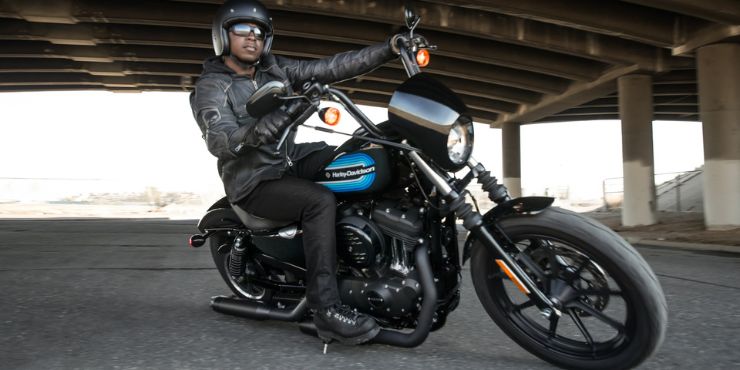 Harley-Davidson Softail: Brakes
The sight of a single 300mm disc up front will be slightly disconcerting on such a heavy bike. However, the four-pot Harley-Davidson branded caliper will do a wonderful job of hauling the motorcycle to sensible speeds when needed. When it is combined with oodles of engine braking, the motorcycle will never feel underbraked. 
A single twin-pot caliper will do a fantastic job at the back, but it isn't the most confidence inspiring. It lacks feel, despite not having sufficient force for provoking the ABS into action. Once it is provoked, the action will be slower than expected with a defined pulse instead of the hornets-nest buzz of smaller systems, but no less reassuring. The brake and clutch levers are rather big and bulky, but it still keeps up with the style of the bike. A lack of reach adjustment might make the smooth action very difficult if you're small of hand.
Harley-Davidson Softail: Accessories and extra equipment
While the Softail isn't bristling with BMW or Ducati levels of rider aids, there is more than enough to keep your bike feeling modern. Keyless ignition will be a delight and will come standard on all bikes.
You'll be getting a mix of LED lights and filament, with excellent LED headlights that add presence to your bike. There are also self-canceling indicators and an LCD screen that shows the relevant information you might need. It includes the odometer, 2x trip counters, time, and RPM, all of which can be toggled through a button on the left switch gear. There are no rider modes, cornering ABS, traction control, or radar-assisted cruise control. The Harley-Davidson Softail's true beauty lies in the bike's simplicity and the connection with the biker.
Harley-Davidson Softail: Areas that need improvement
After a long ride, you'll be glad to get a break, and it'll be evident that it's an area that needs attention. The low saddle height of around 680 cm will mean that even for riders of less than average height, the riding position could be cramped with your knees higher than the hips. If you're more than 6 feet, you need to test ride before purchasing the bike, as it could be a sticking point.
Secondly, the mid-mounted pegs, when combined with the low saddle, will make it difficult to take the weight through your legs. It can leave you feeling like you have to push your feet on the pegs to stop your legs from being split apart and flailing in the wind. This could result in lower back pain, tired legs, and a sore bum from the plush but confined seat. Pillion provision is rather non-existent, which means if you intend to tour, you should prefer to ride solo.
Conclusion
Thank you for reading. Hopefully, now you know a lot more about Harley-Davidson Softail, what is a Harley-Davidson Softail, and other details about the Harley-Davidson Softail. The Harley-Davidson Softail is one of the best touring bikes offered by the iconic brand Harley-Davidson. It's a great entry-level offering and acts as the perfect entry point to the world of Harley-Davidson bikes for beginners. Extremely smooth and flexible, this bike features a powerful engine and delivers comfortable riding.