Are you looking for ways to have your old, used Harley-Davidson look sparkling new? If so, then a paint job is just what you need.
The cost of painting a Harley-Davidson bike will depend on what type of paint job you're going for. Getting a Harley-Davidson bike painted at a showroom can cost you between $300 and $1500. 
However, this isn't the only way to get your Harley-Davidson bike painted. In this article, you'll get to know all about how much does it cost to paint a Harley-Davidson, the alternative options, how to retain the paint, and more.
Paint your Harley-Davidson bike and make it look brand new
Painting a Harley-Davidson bike can cost a fair bit, especially if you're getting the entire motorcycle. However, it can cost less if you're only getting small parts painted. If you're wondering how exactly you can do that, there are three different ways to get your bike painted. A great paint job will take more money and time.
If you're looking to customize your motorcycle, can always go to a professional and get your bike painted. However, you can also do it yourself and add a little flair to your motorcycle. If you're looking to repaint an entire Harley-Davidson motorcycle, you will have to pay a bit more.
Each paint job and its cost will depend on the portions of your bike that you want to paint. Some drivers are only looking to paint the tank or fenders, while others might want to paint the entire frame. The cost of painting your bike can vary considerably. If you're doing it yourself (DIY), you can depend on a spray can or a paint machine for the job. Further, it'll also play a key role in the final cost.
You might have to spray a reformer paint on if you're having a bit of rust. By having a small paint job for scratches, you might want to do this yourself. Further, you shouldn't forget about the paint and designs that you'll be using. Getting a high-quality paint job and finish will depend on the paint quality and any prior mistakes. Quality craftsmanship and custom paints are going to cost you much more.
How much does it cost to paint a Harley-Davidson bike at a service center?
A regular paint job at a professional service center will cost you between $300 and $1500. As with any paint job, the final price depends on the amount of work you've to do before getting it painted. Keep in mind that the actual painting is merely a part of the process. The more significant part of the paint job will be sanding off old paint from the bike. Sanding your bike will need manual work, and it'll take some time.
Additionally, the cost will increase in case there is a lot of preparation to be done before the actual paint job. The parts should be covered or removed to paint the frame while some parts should be removed to properly paint.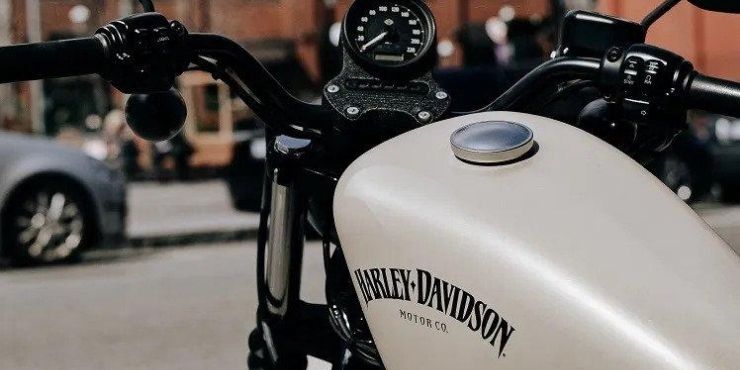 An important tip to consider is to prepare your motorcycle before going to a professional. You can always start the work at your home and then ask a professional to finish. This can reduce the cost a bit, as you may only have to pay half the amount for a regular paint job. If you're doing the preparation yourself, you'll see if pulling off the entire job is possible for you.
If you cannot pay for the entire paint job, ask a professional about the cost if you remove the parts yourself. If you only want to paint the job and the fairings of the bike, it'll cost you less. By removing them and doing preparation work, you can save time and money during the paint job. You should take time and learn to detach and reattach parts that you wish to paint properly.
After the parts are painted, you should be careful that you don't scratch the paint and clean the surrounding areas. This way, you can ensure that the newly painted parts look clean and nice. Saving money is always a great option, but ensure that you avoid potential problems when doing the preparation work.
How much does it cost to get a Harley-Davidson custom motorcycle paint job?
A regular paint job will be cheaper than compared to custom Harley-Davidson paint jobs. However, it must be noted that if you're restoring the paint of your bike, it'll cost you a lot more, with the price ranging between $600 and $3000. You might want to take pictures or use an art program with yourself. You can use it as a reference for yourself or tell the professional the design that you have in mind.
You can take advantage of the internet and hire a professional artist to create a custom design for you. There are websites that offer artists who can help with design concepts, including custom paint job designs for your Harley-Davidson bike.
Remember, it would be almost impossible to haggle the price if you're looking for the help of professional customized painting. You can expect to pay almost double what you would have paid for a normal motorcycle paint job.
There are a few reasons why custom paint jobs for Harley-Davidson bikes cost so much. 
More preparation work will be required
More paint will be used
More time will be consumed 
Sometimes, costume mixed paints might be needed
Established, highly rated paint shops will charge more
A custom paint job could raise the value of your Harley-Davidson bike. The market for unique paint designs might lower the number of people that might be interested in purchasing your bike. Your bike is not just for transportation but a work of art. The uniqueness of the paint job will make your bike stand out while giving you the pride of being its owner. Just ensure that you get the design that you really want to go for.
How much does it cost to paint a Harley-Davidson bike yourself?
The average cost of painting your Harley-Davidson bike yourself can range from as little as $10 to almost $100. This will depend upon how in-depth you want to go when painting your motorcycle. Whether you're only painting the tank or the entire motorcycle, there will be certain tasks you'll have to perform.
Sanding
Sanding before and between coats will be important if you're looking for a smooth-to-touch paint job. You can always begin with a rough 80-grit and then gradually move up to 120 and then 200-grit. This will help you get the perfect finish that is incredibly smooth to touch.
Cleaning
You would want to ensure that the area is thoroughly clean before you apply the first coat of paint. It is recommended that before applying paint, use a damp microfiber cloth for wiping down the surface of your bike. Remember that even little dust particles can easily show up in the final paint job.
Masking
Mask off the parts that shouldn't be painted by using painter's tape. Cover the parts like the motor, electronics, oil tanks, saddlebags, and other engine components if you don't want them painted. The professional painters make use of a paint masker for quickly covering undesired surfaces.
How to preserve the new paint job on your Harley-Davidson motorcycle?
1. Keep the bike covered
If you want the paint job to last for a long time, it is essential to start with the basics. No amount of polish or wax or washing will preserve the paint job if you don't cover up your bike. Look for a parking spot that has a shade over it. If this isn't possible, simply get a parking cover for your bike. This way, it wouldn't be exposed to external factors and you won't have to clean it all the time. Moreover, when you're in a hurry, you'd want your Harley-Davidson bike to be ready and not be covered with dust. For keeping your bike this way, you should find a decent cover for the motorcycle.
2. Keep your motorcycle clean at all times
Sometimes, it might happen that even if you've kept the bike covered, the bike might not be clean. Extreme weather conditions may result in dirt and dust getting accumulated overnight. You can always get rid of this problem by cleaning it. If you don't, it might cause scratches or even take off the paint before it is supposed to.
You will need to keep off the grime such that the paint doesn't wear off anytime. You should give your Harley-Davidson bike regular washes and then give a routine waxing to retain the shine.
3. Treat the scratches
Scratches are inevitable. There'll be a day when you're cleaning the dust from the bike and you discovered several nicks in the paint. There might even be a scratch or two. You'll likely be disheartened, but you shouldn't be because this is unavoidable.
Although these are expected, there are things that you can do to save your motorcycle from scratches. You can go for a transparent film and put it on your Harley-Davidson motorcycle after cutting it into suitable shapes. This will help protect the new paint job from scratches.
4. Wax the bike regularly to keep it shining
Washing might not always be enough if you're looking to keep your bike shining several days after getting the paint job. You will also have to polish the paint after you wash the bike. 
A decent layer of polish can do a lot to keep away all the dirt and dust. These unwanted substances won't be able to stick to the surface. Moreover, the paint will be saved from the unfavorable conditions 
Apart from this, you can even use dashboard polish if you're looking to give your bike a decent polish. Wash, wax, polish, and cover will be important if you're looking to have the paint as new as possible for long. This needs to be done regularly so that the effects are visible for a long time. After all, you wouldn't want your motorcycle to be shadowed by dust and dirt, would you?
Conclusion
Thank you for reading. Hopefully, now you have more than enough knowledge about how much does it cost to paint a Harley-Davidson bike? Normally, regular paint jobs at service centers will cost you around $300 to $1500. Meanwhile, a customized paint job will be far more expensive, as it'll cost $600 to $3000. There is also an alternative method for people who love the DIY way, as it'll cost between $10 and $100.
By doing some of the work yourself, you can essentially slash down the price by a few hundred dollars. The final price will depend on whether you want to get a few parts painted or the entire bike painted.