Are you a fan of classic motorcycles? If so, then you may have heard of the iconic Harley-Davidson "Fat Boy" motorcycle. For those who are unfamiliar with this classic ride, this guide will explain what makes the Fat Boy so special and memorable. Read on to learn about the history, design and legacy of this classic motorcycle that has been a favorite of bikers for decades.
What is a Fat Boy?
The Harley-Davidson Fat Boy is a Softail cruiser-type motorcycle. Many bikers wonder how this bike got its infamous name. Naturally, this bike has a heavier feel to it, so if you are expecting a lightweight zip of a Honda, Yamaha, or Suzuki, you are certainly on the wrong hog. This bike might initially seem a bit under powered. However, riding it long enough can open up your ears, eyes, and body to what it feels like to ride a Harley-Davidson bike with steady power that can pull you in and doesn't let you go.
Its low center of gravity will make handling at low or high speeds very simple. After a long right, the pullback handlebars and low leather seat will leave your tired body in a more comfortable place than what you'd expect of other motorcycles. The distinct roar of a Fat Boy is something that you'll get used to, as it'll empower you with an unrivaled sense of coolness.
The name of this bike actually comes from the fact that it is indeed fat. The appearance of this bike is wider than most motorcycles when viewed from the front on. While this might be the story that the brand sticks to, there is another infamous theory behind its iconic name. According to the rumors, the Fat Boy was designed to be a morbid but patriotic tribute to the bombings of Japan during WWII. As farfetched as this theory might seem, there is evidence presented to support this claim –
Fat boy is actually an amalgamation of the names that were given to the two atomic bombs – "Fat Man" and "Little Boy"
The color of the bike is similar to that of the Enola Gay and Bockscar, the Boeing B29 Superfortress planes that dropped the bombs
The motorcycle's solid disc wheels resemble the ones that were used on places like the B-29s
The yellow rings on the bike are allegedly the same as the ones on the two atomic bombs
Evolution of the Harley-Davidson Fat Boy
Harley-Davidson first came out with the Fat Boy in 1990, and it has since become one of the most popular bikes sold manually. Here is how the bike evolved over the years –
From a concept to a production model
The bike's first prototype was designed by Willie G. Davidson and Louie Netz. They saw fit to define the prototype's characteristic look with solid cast disc wheels in the rear and front. The fenders come with a gentle flair, and it made great use of shotgun exhausts, which were actually a first in the brand. This concept would serve as the basis for the latest family of Harley-Davidson lineup. It was subjected to hardcore testing and customer feedback before it was ready for full production. It took almost two years of constant changes and tweaking before Willie G. Davidson was satisfied with the final results. In 1988 and 1989, he rode a prototype of this bike to Daytona.
The Fat Boy was finally presented to the public in 1990 as it came with a monochromatic paint scheme of silver and a frame that was coated with silver powder. Yellow detailing was used for adding remarkably attractive contrast. To give the bike a handcrafted look, the seat and fuel tank featured lacing details. Moreover, the bike also got crowned with a unique logo intended for creating a sense of nostalgia and patriotism. The same logo has since been used on every single edition of the Harley-Davidson Fat Boy.
The first changes to the Harley-Davidson Fat Boy
The exhaust was the first thing that was changed for the 1994 edition of the Fat Boy. The bike was equipped with a new seamless exhaust, giving the bike a cleaner look. It was the only major change that was made that year, but it was all that was needed.
The bike's switchgear and master cylinder received a revision from the engineers in 1996. It was the only real change made since the revisions were made in 1994. This was the bike's status until 1999 when there were changes made again. It wasn't until 1999 that the bike was presented with a new twin-cam, 1450cc engine.
The evolution continued in the modern age
Despite moving into a modern age, the bike still retained the nostalgia factor of the past. Harley-Davidson eventually added a few innovations to the 2002 Fat Boy, including an immobilizer, an alarm, and bullet-style indicators. This was it until further adjustments were made a few years later.
The Fat Boy is still alive and well. The 2018 model was presented in the form of a new redesign in the Softail frame, including the Showa front and rear suspensions that replaced the twin shocks with a new monoshock that was fitted under the seat. It offers much better control while riding while also providing greater comfort.
Body of the Harley-Davidson Fat Boy
The Harley-Davidson Fat Boy has been in production for more than 30 years. This bike is known for its distinctive design, smooth ride, powerful engine, and more. Here is what Harley-Davidson Fat Boy is all about –
Dimensions and weight
The Harley-Davidson Fat Boy has the dimensions 94.3 x 37.8 x 45.6 inches in terms of length, width, and height. The seat height of 26.6 inches is quite low and appealing, whereas the ground clearance is 4.7 inches. The bike has a wheelbase of 66.1 inches, and it features a dry weight of 670 pounds. The motorcycle's weight, combined with the low center of gravity, gives this bike excellent stability and handling.
Design and style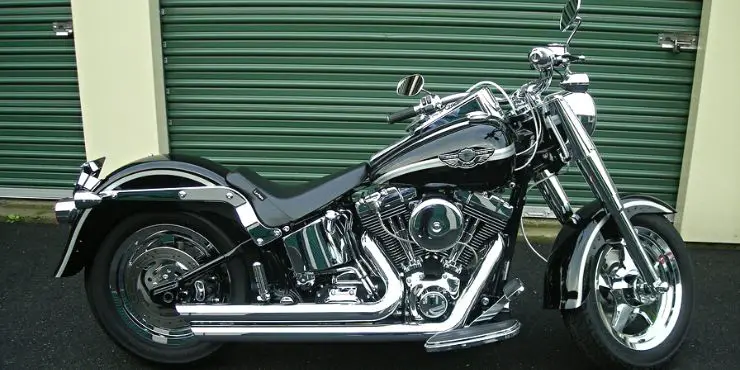 The Harley-Davidson Fat Boy's design has been inspired by the post-World War II era, with a slight nod to the bobber-style bikes of the 40s and 50s. The motorcycle's distinctive look has been defined by its massive front wheel, its clean lines, and its wide, low-slung stance. It features a modern look on the classic Harley-Davidson Softail frame, which has been designed to offer a smooth ride and improved handling.
While the recent designs do look modern, they still retain the signature Fat Boy elements – the Lakester wheels, the squarish headlight, the satin-finished metal covering, and a low and imposing stance. The bike comes with a mix of chrome and satin-finish metal that gives it a more premium edge, and it's tough not to drool over its level of fit-finish.
The Fat Boy also has an LED headlight assembly, which gives it a futuristic look. The overall build quality is top-notch and at par with the best in the segment. It will be evident from the paint finish and even the quality of the welds, which seem to be consistent enough. The one thing that you might not like will be the grinding marks on either side of the handlebar.
Engine
The Harley-Davidson Fat Boy comes powered by an exceptionally powerful Milwaukee-Eight 114 V-Twin engine. This is a 1,868cc air-cooled engine capable of delivering 119 lb-ft of torque. The engine is mated to a six-speed transmission and features a fuel economy of 47 mpg combined.
Since it is a large-capacity V-Twin engine, there are some vibrations, although the motor feels significantly smoother compared to the predecessors. The vibrations become rather noticeable when you reach around 3000 RPM. However, once you start cruising on the open road, you can build up some more revs, and they'll be ironed out to an extent. Overall, it will add a great mix of rawness and refinement that will be a welcome treat to most riders.
The Harley-Davidson Fat Boy isn't just packed with flamboyance and character, but it'll also pack in serious grunts. Despite weighing more than 300kg, it'll still manage to charge off the line and achieve the 0-100kmph sprint in only 5.36 seconds. This number could have been better, but as the torque is produced in such a manner, the rear wheel ends up losing traction each time this beast is fired up.
If you're a diehard cruiser fanatic, you'll never want to leave out your Harley-Davidson Fat Boy parked for too long. This is mostly due to its V-Twin Milwaukee Eight engine, which has enough power and character that it can excite even the most jaded biker. It comes paired with a six-speed gearbox capable of offering precise but clunky shifts. Thankfully, this bike isn't quite as mechanical as some of the older-generation Harley-Davidson bikes. With that said, slotting into neutral can be a slightly tough task, and it'll only be possible once you kill the engine.
Seat
As for the seat, the Fat Boy feels rich, but it's on the softer side, so extensively long rides may demand some stops. Thankfully, it is quite wide and will also accommodate riders whose body shape matches your bike's name. With that said, you'll have to adopt a wide stance with your legs when you halt as the exposed engine block, transmission box, and pipes get excruciatingly hot. The same will go for the pillion too, as there's no heat shield near the foot pegs. It means that the pillion's feet are almost in contact with the exhaust pipes, so wearing boots will be a must.
Performance and ride quality
As for the performance, the suspension adds to the plush ride offered by the Harley-Davidson Fat Boy. The bike comes equipped with the Showa Dual Bending Valve forks, which were previously seen on the Touring range. Moreover, there is also a monoshock at the rear alongside a remote preload adjuster. These forks aren't only lighter, but they'll also iron out most undulation and handle bumps of all shapes and sizes with finesse. With that said, because of the low ground clearance, you will have to take some extra caution when dealing with not only deep potholes and tall sharp bumps but also relatively smaller bumps.
The tires will provide great grip under hard braking without any sign of screeching. Meanwhile, ABS will also work well. The front brake feels slightly numb, whereas the rear offers relatively better feedback. The motorcycle is capable of stopping from 100kmph in 50.16 meters, which going by its weight and girth, can be slightly underwhelming, but it is understandable.
On the highways, riding a Fat Boy will be a breeze to cruise upward of 100kmph. All you have to do is shift into sixth and the RPM meter will drop to 3000 RPM with a barely audible thump. However, you must remember that at higher speeds, the wind blast may be a bit agitating. It'll accelerate quickly in gear as well. It is possible to manage a 30-70kmph in 3.41 seconds in the 3rd gear, while 40-80kmph in the 4th gear can be achieved in 4.13 seconds.
Overtaking traffic needs to be dealt with in a jiffy. In the city, the bike will manage to offer decent rideability in the first, second, and third gears. Meanwhile, the motor will also pull comfortably from low speeds. Slot the gearbox into higher gears though, like the 5th, and you will have to keep the speed above 50kmph. In the 6th gear, it'll be best to stay at 60kmph at least. This is what you can easily expect from large-capacity V-Twin engines. While the commendable roll-on figures are commendable, a bit more low-speed tractability would have definitely been welcome.
Fuel capacity
The Harley-Davidson Fat Boy comes with a fuel capacity of 5 gallons. This gives the bike a range of around 235 miles on a single tank of gas.
When it comes to efficiency, the Harley-Davidson Fat Boy is capable of offering 17.2kmpl in the city, while it can offer 25.7kmpl on the highway. The same can be achieved without exceeding the 50kmph mark in the city while maintaining a speed limit of around 100-110kmph on the highway.
Unique features
One of the most distinctive features of the Harley-Davidson Fat Boy is the massive 160mm front tire. This gives the bike a commanding presence on the road. This motorcycle also features a signature LED headlight alongside a bold, retro-inspired tank graphic. The other notable features include a high-performance suspension system, a two-up seat, and a wide variety of optional accessories, including a passenger backrest, saddlebags, and a windshield.
There is also a large analog speedometer in the middle of the tank. It displays all the information for the odometer, fuel level, distance to empty, and even RPM digitally. While the cluster is quite informative, reading it will involve taking your eye off the road while glancing own a bit will be a difficult thing to do when on the move. The instrument pod will be flanked on both sides by fuel-filler caps. The faux cap on the left is the functional one, while the right one is simply there to offer symmetry.
How Does the Harley-Davidson Fat Boy Perform
The Harley-Davidson Fat Boy is a legendary bike that offers a unique combination of power, style, and comfort. The bike performs exceedingly well and is quite versatile in terms of acceleration, stopping, turning, comfort, and more. Here is how a Harley-Davidson Fat Boy performs on different criteria –
Acceleration
The Harley-Davidson Fat Boy comes powered by a Milwaukee-Eight 114 V-Twin engine that can deliver 119 lb-ft of torque. This exceedingly powerful engine allows the bike to accelerate smoothly and quickly, which makes it ideal for both city riding and highway cruising. With a 0-60 mph time of slightly over 4 seconds, the Fat Boy is among the fastest cruisers on the market currently.
Top speed
The Fat Boy is capable of delivering a top speed of around 115 mph, which is more than enough for most bikers. While it might not be the absolute fastest bike on the market, its combination of power and handling will make it quite pleasurable to ride at any speed.
Stopping
The Harley-Davidson Fat Boy delivers a high-performance braking system that has been designed to offer excellent stopping power. The motorcycle comes standard with rear calipers and a dual-piston front, which work together and provide smooth and controlled braking in any situation. With its agile handling and responsive brakes, the Fat Boy is quite easy to stop and maneuver despite going at high speeds.
Turning
The bike features a modern Softail frame that has been designed to offer excellent handling and maneuverability. The motorcycle's low center of gravity and wide stance have made this bike easy to turn and navigate through tight spaces. Meanwhile, its high-performance suspension system will help in smoothening out bumps and rough roads. Whether you are cruising down the highway or simply navigating city streets, the Fat Boy will offer tremendous control and stability.
Comfort
This bike has been designed with rider comfort in mind. It comes with a two-up seat that offers a lot of cushioning and support for long rides. The suspension system has also been designed to offer a smooth, comfortable ride even on rough roads. With an incredibly comfortable seating position and well-designed controls, the Fat Boy is truly a pleasure to ride for bikers of all sizes and skill levels.
Customization Options for Harley-Davidson Fat Boy
While Harley-Davidson Fat Boy is an extremely capable bike on its own, it also offers an incredible level of customization potential. Whether you are looking to improve its appearance, enhance its performance, or personalize it to your taste, the Harley-Davidson Fat Boy offers a wide range of customization options.
Performance upgrades
If you are looking to boost your bike's performance, there are numerous upgrades that you can make to the engine, exhaust system, and suspension. For example, you can easily install a high-performance air filter or a set of pipes for increasing airflow and improving the motorcycle's sound. You can even upgrade the suspension by installing new shocks or fork springs to improve handling and stability.
Appearance upgrades
One of the best things about the Harley-Davidson Fat Boy is its iconic styling, but there are many ways to customize its appearance and make it more unique. You'll have the option to swap out the stock seat to install a custom one, add new handlebars, or install a new set of wheels that give your bike a new look. You can even add chrome access, custom paint jobs, and other accessories for personalizing your motorcycle and making it stand out from the crowd.
Personalization
The Fat Boy offers an incredible level of personalization potential, which allows you to create a motorcycle that truly reflects your style and personality. Whether you are looking to add a custom graphic, install a unique set of accessories, or personalize the paint job, there are many ways to make your motorcycle your own. You can even add a custom sound system, install a new set of foot pegs, or upgrade the lighting for making the bike even more comfortable and enjoyable to ride.
FAQs
What is a Harley-Davidson Fat Boy?
The Harley-Davidson Fat Boy is a classic cruiser style motorcycle that was first introduced in 1990. The Fat Boy features a wide, low-slung profile, wide handlebars, and a powerful engine. This bike has become an iconic symbol of the Harley-Davidson brand and is beloved by many motorcycle enthusiasts.
What are the features of the Harley-Davidson Fat Boy?
The Fat Boy features a beefy 88 cubic inch V-Twin engine, a wide, low-slung profile, forward foot controls, a wide handlebar, and a 5-speed transmission. It also has a low-slung saddle and a wide rear fender that gives it a classic cruiser look.
What is the difference between the Harley-Davidson Fat Boy and other Harley-Davidson models?
The Fat Boy is one of the most iconic Harley-Davidson models, but it is also one of the most distinctive. It has a much lower profile than other Harley-Davidson models, which gives it a classic cruiser look. It also has a beefier engine and a wider handlebar. Additionally, the Fat Boy has a 5-speed transmission, whereas other Harley-Davidson models may have fewer or more speeds.