Do you wonder if it is possible to make your Harley-Davidson bike look like it just came from a showroom? The answer to that is yes!
Washing a Harley-Davidson motorcycle thoroughly will help you make your bike look like it just came from a showroom. All you'll need is soap, water, and the right set of instructions.
Soap and water you'll need to arrange on your own. As for the instructions on how to wash a Harley-Davidson motorcycle, this article will take care of that. Stick around as you'll get the step-by-step guide on how you can thoroughly clean your bike.
Wash your Harley-Davidson motorcycle regularly
A Harley-Davidson bike is very special. It isn't just a bike, but it is more like family. An avid Harley-Davidson rider will likely describe the bike as a companion, a close friend, or even a soul mate.
Just like your friends and soul mates, you need to take proper care of your Harley-Davidson bikes well. Washing the bike and maintaining it is the best way of taking care of it. You need to know how to wash a Harley-Davidson motorcycle. Then, you should dry it and polish it to give it the needed shine. Not only will it ensure that all eyes are on you, but you'll also be able to make the bike last long. 
It is important to keep in mind that your Harley-Davidson bike will require special attention and special cleaning. It cannot be taken to an automobile wash and cleaned like any other bike. Taking your bike to a commercial washing centers and making it go through forceful water jets and stubborn brushes will give any Harley-Davidson lover a nervous breakdown. This is why you should prefer cleaning your bike manually at your luxury. This way, you'll be able to give your bike attention and pampering.
What items are needed to wash your Harley-Davidson motorcycle?
The preparation and tools are as important as the process of washing and cleaning your bike. Some Harley-Davidson bike owners prefer using a pressure washer, while others are okay with a hose. You should gather the needed items and let the process of cleaning and shining begin. Unless you work at a commercial wash center, you'll need to gather the tools needed for cleaning. Some of the items are mandatory, while others are optional.
Here are the items that you will need to wash your Harley-Davidson bike – wheel and spoke brush, buckets of water, a microfiber cloth, hose or pressure washer, motorcycle wash soap, and a microfiber towel. Some of the optional items that you may want to include – a toothbrush, tire cleaning spray, engine degreaser, air motorcycle dryer, rubber gloves, and chain lubricant.
A step-by-step guide for washing your Harley-Davidson bike
Once you've gathered all the needed tools, the next step will be to find a convenient area. Look for a level driveway. You should have enough space and freedom to work and clean without any obstructions. Now comes the time to begin the process of cleaning, drying, and polishing your Harley-Davidson bike. Remember, you need to wash your bike with care and precision otherwise you may expose your bike to damage. Here are the steps on how to wash a Harley-Davidson motorcycle.
1. Remove any grease or bugs from your bike
Before you start washing your bike, you should decide if you wish to clean the chain. This is the right time to do that. You will also want to clean off any grease in all the areas that are hard to reach, as well as the areas that are hard to clean.
Clean the headlight and front fender.
Firstly, it would be a great idea to check the headline and the front fender for any bugs and tar. It is common for the bugs to stick to your motorcycle's body while riding. For removing them, you should use warm towels and soap. You could even use a bug spray remover, as it'll get the job done. Then you should wait awhile before rinsing it off with water.
Next up are the nooks. You can use cloth or rags that get greasy. You might even need to crane your neck and arm so that you can reach the exhaust pipes, the exhaust arm, the swing arm, the cylinders, and under-seat suspensions. Then, you can use a toothbrush for cleaning the suspensions and the tight areas around the cylinders.
Having a decent engine degreaser can do the trick too, as it thoroughly cleans these areas. You can spray it on, wait for a bit, and wash it off. Then comes the wheels, which are often grimy due to the chain lube and dirt from the road. You should use a tire cleaner spray on all the nooks of the wheel. 
You can also make use of a plastic brush to remove any stubborn dirt and grime. You'll have to give it a while before washing it off using a hose. 
2. Wash your bike with soap and water
Firstly, you should prepare two buckets, one with soap and water mixture, and the other bucked with just water. Remember that the microfiber cloth you're using should be free of grease or dust particles. Prevent paint damage by making use of a clean, particle-free cloth.
Next, you should rise the entire bike using clean water. Avoid the water sensitive areas like the dashboard, engine bay, and chain) if you're using a pressure washer. Soak the cloth in the soap bucket or spray the soap with your pressure washer. Then, make use of cloth for cleaning all the area for the bike using soapy water, unless the grease is still present. Rub the painted areas with light pressure to prevent any scratches if particles are left on the paint.
A foaming sprayer will help keep the soap on the bike longer. Further, it will also remain wet for a longer time. Going from the bottom to the top when spraying will give you better coverage.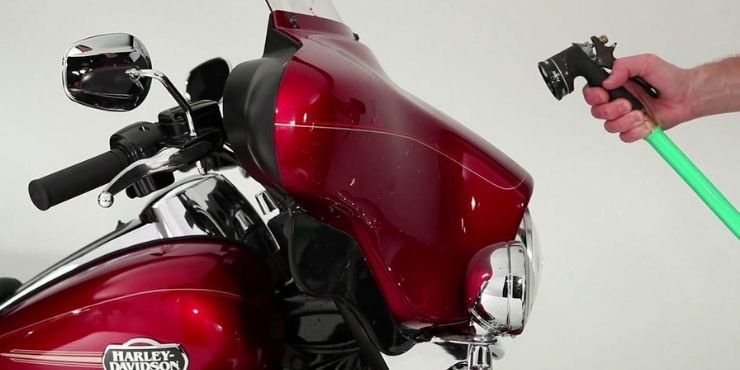 Lastly, you should check that you have washed the different areas of your bike that have to be cleaned. Then, start rinsing off the bike with clean water from the top to the bottom. This will help prevent the dirt from spraying up. Make sure that the soap has been completely rinsed off. Double-check the areas that are hard to reach. You can make use of the wash mitt for ensuring the proper cleanup of the tiny areas.
3. Drying your Harley-Davidson bike
Most people prefer to use microfiber towels when they're drying their bikes. A microfiber towel is pretty cheap, cleans effectively, and will be safe on paint. A chamois is a handy tool to have, as it is very effective at soaking water.
Firstly, wipe the water off the bike in all the possible areas. Avoid cleaning the rubber on the chain and tires. If there is any grease in the area, you should avoid using your towel. Next up, make sure that your bike is completely dry so that you can avoid streaks or spots. Double-check in case you've missed something.
Lastly, you should ride your bike in a clean area to remove the remaining water. If needed, stop your bike after a block or two to wipe away any streaks that have developed. Remember to carry a microfiber towel for wiping water if needed. Another alternative would be to use a motorcycle dryer, as it'll help you dry your Harley-Davidson motorcycle.
Air pressure is also a decent alternative to get into the nooks and crannies that cannot be accessed easily. You'll love the results as a properly dried bike looks amazing. Ensure that the chain is dry and add the needed lubrication. A wet chain can easily cause corrosion over time.
4. Polish your Harley-Davidson bike
The last step in washing your Harley-Davidson bike would be to ensure that it is polished properly. It is a known fact that a well-polished Harley-Davidson motorcycle will repel any bugs and dirt. You can also use wax with a microfiber towel for polishing the tank and fairings on your bike. You should leave it for a while before cleaning it off.
Remember to keep the wax away from the windshield, as it might create a haze that doesn't come off easily. To polish the metal part of your bike, you should use a metal polish as it'll make these parts shine. If your motorcycle parts are getting dull, you might have to clean, buff, and then polish them.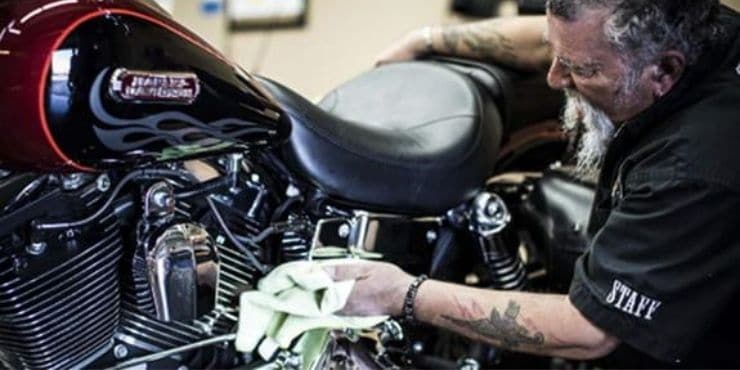 Important tips to remember when washing a Harley-Davidson motorcycle
You must remove all the items that you want to avoid getting wet such as GPS, tank bags, and luggage.
It is essential to know beforehand when and where you're going to wash your bike. You cannot wash your bike directly after coming from a long ride. Give it ample time to cool down before you start cleaning it. It will be dangerous and risky to wash the bike on the street.
Regular washing is very important. If you drive your bike every day, you should wash it weekly or bi-weekly at most. However, remember to not overdo it.
During washing, check your motorcycle for any potential issues including oil or fluid leaks. Clean the bugs as soon as possible. It will be difficult to remove the bugs later on.
You need to know that quality cleaning products should be preferred. Using the wrong kind of product on the wrong component could end up damaging your motorcycle.
When washing your Harley-Davidson motorcycle, ensure that you don't drop your wash mitt to the ground. The same applies to the sponge or piece of cloth. These materials can easily pick up dirt, and even a small grit could scratch your bike.
If you're dealing with harsh compounds, you should prefer wearing rubber gloves when cleaning.
You shouldn't dismiss the effectiveness of using an old toothbrush for cleaning the hard-to-reach areas of your bike.
Conclusion
Thank you for reading. Hopefully, now you know how to wash a Harley-Davidson motorcycle and keep it looking new. Through the detailed step-by-step mentioned instructions above, you will be able to wash and clean your bike. Use the guide and remember the tips, and you will never go wrong with washing your bike.
Remember that your Harley-Davidson is not like every other bike. You will need to give it special care and pampering. These tremendous machines demand nothing less than a caring owner who regularly washes the bike and keeps it looking new. By cleaning your Harley-Davidson bike and maintaining it, not only will you get a cleaner bike, but you will also be able to increase the lifespan of your bike.